Jomhoy at Beige London

---
---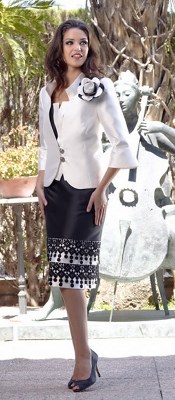 Jomyhoy is an iconic provider of special occasion wear in the plus size industry. Maintaining a solid reputation and years of experience, this fashion house know exactly how to provide that special outfit for any occasion or event.
Jomhoy Designer Collections
Martinex Mompean Hnos S.A. launched the Spanish company in 1964 and has continued to acquire both knowledge and experience over the years since. In comparison to other fashion houses, Jomyhoy consider themselves as specialists of their trade. This is due to their acute attention to detail in every design and style. They provide many variations of suits, cocktail wear and evening gowns that all meet the expectations of an elegant lady looking for formal attire.
---
Jomhoy Designer Plus Size Clothes at Beige
You can expect from Jomhoy nothing but the finest materials. Attention to detail is something they pride themselves on therefore embroidered silks and lace, chiffon, hand painted organza, crepes and prints are always a necessity to every collection irrespective of trends. The brand collaborates with the finest accessory firms to add those finishing touches.
Jomhoy is available to BeigePlus stores and online from sizes 18 to 26. Their elegant signatures and glamorous ensembles are recommended highly amongst both staff and customers.
---