I am not a good cook and, although my boss thinks that because I'm Italian I can cook lovely food, I really don't like being stuck in the kitchen for longer than an hour a day – there are better things to do than cooking… shopping, for example!
However, being born and raised in Italy, I do have imprinted in my genes how to do a lovely Bolognese sauce, how to make Tiramisu', never to overcook pasta and how to improvise quite yummy peasant dishes with whatever I find in my cupboard. Simple, quick cooking that only needs a bit of love… not for the cooking itself but at least for the eating!
So there we are, in Dusseldorf, having a fantastic Italian meal with our friends Toni and Becky, when Toni said she once went to a restaurant where the chef mixed (in Italian we say "mantecare") pasta and sauce straight into an empty wheel of Parmesan! Well, I thought great, I have an amazing recipe for whatever crust is left of the Parmesan.
When I was a little girl, it was an absolute treat to be given the task of grating the cheese before pasta was served – and if you are Italian you do eat pasta every day – because little pieces of it would always come loose on the grating board and I had permission to eat them! When the cheese got grated to the crust my grandmother would swiftly take it away from me, wrap it up tightly in foil or cling film and stock it in the fridge. By the end of the month, she'd have a few crusts in there and she would announce she'd make a "pasta e patate" with it… what a treat!
A fantastic tribute to the "holy carbohydrate" that only we Italians can make sound like healthy eating.
But how do you make this mythical pasta with potatoes? Nothing simpler. You will have to have some Parmesan crusts (or other aged cheese) stored in your fridge and you'll have to resist for few weeks to the temptation of scraping it and eat it but, if you are not prepared to suffer waiting you could just use the cheese instead of the crust… less peasant and more lord I suppose, but nice nevertheless.
A part from quite a few Parmesan crusts cut in small cubes you will need the following for 4 people (or 3 very hungry ones!):
320-350g of dry short pasta – the perfect type is "pasta mista", mixed pasta, but it's not easy to find at your local supermarket so simple macaroni will do.
400g of peeled and diced white potatoes – again, it is supposed to be a peasant dish so any kind of potato will do as long as it's not sweet potatoes! I like my potatoes to be chunky but you may prefer the pieces to be smaller.
1 white onion, finely chopped
Some "passata di pomodoro," sieved tomatoes, just to make the whole thing pink. You could use some tomato paste instead. Now, this is about taste. Northern Italy may prefer this recipe "white" with no tomato, but I come from the South around Napoli, and this is the way we do it there!
Extra virgin olive oil, "quanto basta." This is a funny expression, it means "enough" and you'll just have to quantify like this: it has to cover the bottom of your pot so that the food does not stick to it.
Basil – I love this herb. Again, it is in my genes to love basil and to hate coriander… it's stronger than me and I have tried!
Salt and pepper to taste.
Vegetable stock prepared with one stock cube and boiling water – for the best of you that really like to cook you can use your own home-made stock.
Some Italian chilli oil to put on top at the end.
Here's how you prepare it. Start with lightly frying the onion until golden then add potatoes, tomato sauce and some of the stock. You need to keep some back so that you can use it if the pasta has absorbed all the water but is not cooked yet. You could put some chopped basil in now.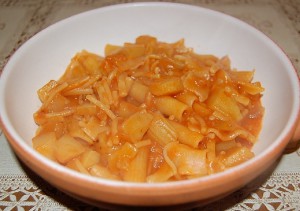 Bring to the boil and cook until the potatoes are almost cooked then add the pasta. Lower the flame and cook until the pasta is ready, adding stock as the pasta absorbs it. There are two schools of thought. Some like it a bit liquid and some sticky. I like it sticky but still you want to be careful not to overcook the pasta. Follow the cooking time on the package and it should be all right.
Remember to stir often because it WILL stick! Once the pasta is cooked take the pot away from the fire, add the cubes of Parmesan crust and stir, leaving the dish to rest for a couple of minutes. In this couple of minutes the cheese will start melting a bit but not completely, leaving you to find those tiny salty surprises in your dish. In the end the pasta will be slightly overcooked but it is all right for this kind of dish.
Serve in bowls or pasta dishes, drizzle some chilli oil and garnish with some basil leaves – et voila', dinner is served!
Please let me know if you enjoyed it!
Email barbara@beigeplus.com
Go online at Beige Plus for plus size clothing in the UK.