It's here…the day you've all been waiting for Black Friday. With 25% off black plus size designer wear it's the perfect time to invest in timeless key pieces.
Black Friday only comes once a year and it's the only time that we offer a discount on those versatile black pieces you've had your eye on all year from size 16 to 28.
You'll have to be quick as the promo ends on Tuesday 29th Nov at Midnight.
Our stylists have picked their favourite luxury investment pieces to help you make some smart choices this Black Friday.
Georgede Velvet Jacket Black
Why we love it: This beautifully crafted velvet jacket by the Parisian label Georgede is both versatile and timeless. Style it with jeans on the weekend or dress it up for a special occasion. It will never go out of style.
Plus Size Designer Black trousers
Black Friday is the only time in the Beige Calendar when you can enjoy a discount on our classic black plus size designer trousers. Don't miss this opportunity to refresh one of the most important components of your wardrobe.
Stock up on stalwarts from Italian labels Marina Rinaldi and Elena Miro.
We love these classic straight leg trousers by Marina Rinaldi
And with a subtle side stripe and a touch of elastane, these trousers by Elena Miro will be the lynchpin of many fabulous outfits.
Party season ready
With the festive season around the corner Black Friday is the perfect time to get your New Year's Eve look together. Classic black will never go out of style.
Now is the time to snap up this stunning Marina Rinaldi sequin dress with matching cardigan.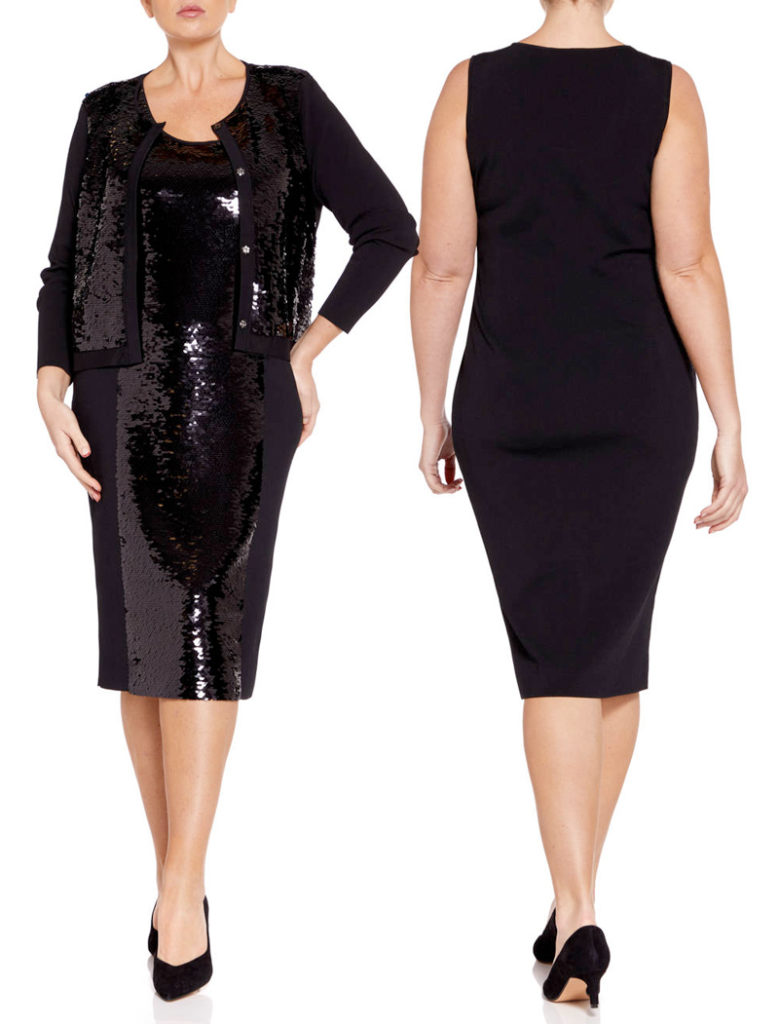 These divine lace coordinates from Persona by Marina Rinaldi are another canny Black Friday investment. Jacket and skirt worn together will take you to the ball.
Styled separately, each piece will carry you into the New Year in style. Team the skirt with jeans and rework the skirt with a cream blouse.
DON'T MISS OUT
Possibly the most important Black Friday investment of them all is the indispensable black winter coat.
This quilted hooded coat from Now by Persona will never go out of style
And this fur trimmed puffed by Marina Rinaldi is a must-have.
To take advantage of this amazing promotion click HERE, and use discount code BLACK25 in the shopping bag
You can also visit our boutique situated in the heart of Central London. Our stylist will help you select the very best of black.
Happy bargain hunting!