Sporty casual • Comfortable • Brilliant fit • Perfect for women with curves up to a size 28 • Easy to care for • High-quality fabrics • Beautifully made in Europe
Beautifully made in Europe, Verpass is quite simply one of our favourite labels. With over four decades of experience in crafting quality plus size fashion, each piece is perfectly proportioned and ideal for women with curves up to a size 28.
Create a Capsule Wardrobe
Invest in coordinating separates to create a complete capsule wardrobe.
We adore this versatile giraffe print story that can be worn in so many different ways. All the pieces are made from easy-to-care fabrics that are machine washable – durable stretch jersey and breathable viscose satin meld comfort with flawless style.
Satin Viscose Giraffe Print Shirt Dress
This iconic giraffe print dress is ideal for a lunch date, and in easy-to-care-for satin viscose, it will always travel well. Wear it on its own or create a sensational smart-casual outfit by styling it open over the coordinating vest by the same designer and a pair of black Verpass techno-stretch trousers.
Cream Stretch Jersey Jacket
The lynchpin of the giraffe print story is this endlessly versatile stretch jersey collarless jacket in classic cream. Cut with curves in mind; the fit is just flawless. Wear it with practically any piece from the capsule, and then wear it again with practically any piece in your wardrobe – a canny investment for the style-savvy woman.
Blush Pinks and Terracottas
Crafted from high-quality fabrics, this stunning capsule will take you almost anywhere. Create a gorgeous outfit by teaming the v-neck blush pink Verpass tunic with ultra-comfortable stretch-viscose printed trousers. Mix it up again by teaming the trousers with the same designer's blush pink viscose satin shirt.
Suiting to Suit Your Lifestyle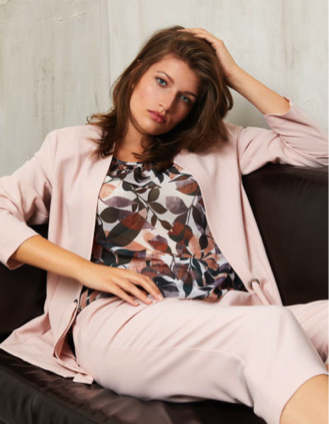 Made from easy-to-care fabrics, these separates are ideal for smart casual or for creating a relaxed office look. The blush pink drawstring waist jacket is cut with curves in mind and designed to create a flattering silhouette; style the jacket with matching stretch trousers for all-day comfort. Accent with the terracotta palette leaf print top. Flawless!
Easy casual dresses
When you need an easy outfit, nothing beats a dress – just add shoes and a few simple accessories, and you're set for almost anything. These shirt dresses by Verpass are a must-have for any well-planned casual capsule. In classic denim and vibrant pink, they're ideal for holiday or weekend. Made from high-quality fabrics, they're crafted to last.
Sporty Casual Chic
Verpass sporty casual offers all the comfort of loungewear, with all the style of smart casual. Trousers made with a touch of elastane for maximum comfort and expertly proportioned shirts and tops made from breathable natural fibres. So many ways to style it!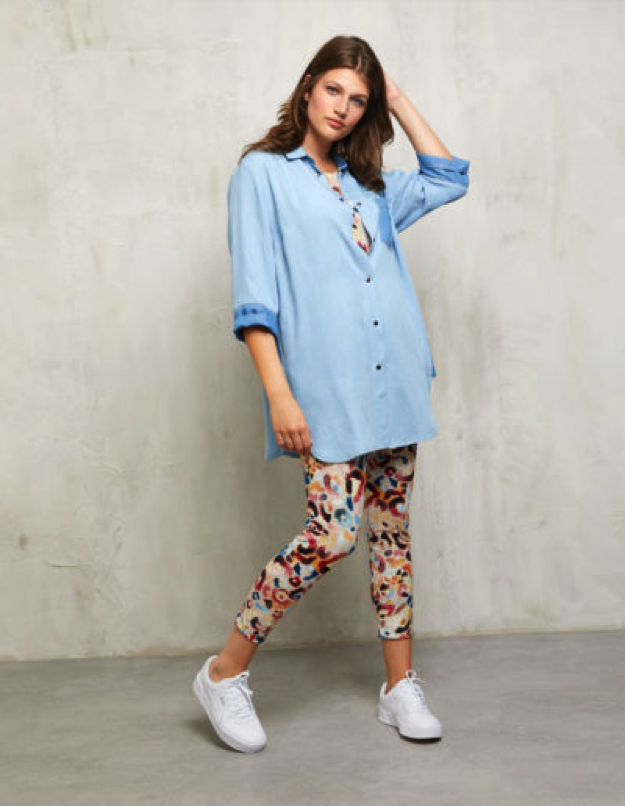 Designer Plus Size 18 to 28 In Store or Online
We are thrilled to be back in business at our flagship store on New Cavendish Street in the heart of London's Marylebone where you can view the full Verpass collection. If you are unable to visit us in store our customer services team are available Monday to Friday 9:30am to 5:30pm to answer any questions.