The canny fashionista knows that sale clearance is the perfect time to invest in those timeless pieces that you can squirrel away for next year.
This is the time to snap up a real bargain. Certain pieces will never go out of style. Maybe it's time to treat yourself to that winter coat you had your eye on, maybe your knitwear capsule needs a little boost or maybe there's a little indulgence that you can finally justify. Now's the time to fill your bag with the ones that got away at the start of the season.
Here's our guide to the best bargain designer plus-size buys
Yoek Drawstring Leather Coat
Made from lambskin leather by Dutch designer Yoek, this stunning coat is a real investment piece. Classic black leather outerwear will never ever go out of style and this coat will coordinate beautifully with all your favourite outfits. Reduced from £1009 to £695 now is the time to get this coveted piece in your wardrobe. Not only will you wear it non-stop next year, it's also perfect for the transitional season so you can start wearing it right now.
Tia Floral Dress
Why wait for the invitation to buy the dress? Get the dress and the invitation will come. Stash this gorgeous floral print dress away for a party or celebration. Now half price so it will give you double the joy!
Verpass Black Trousers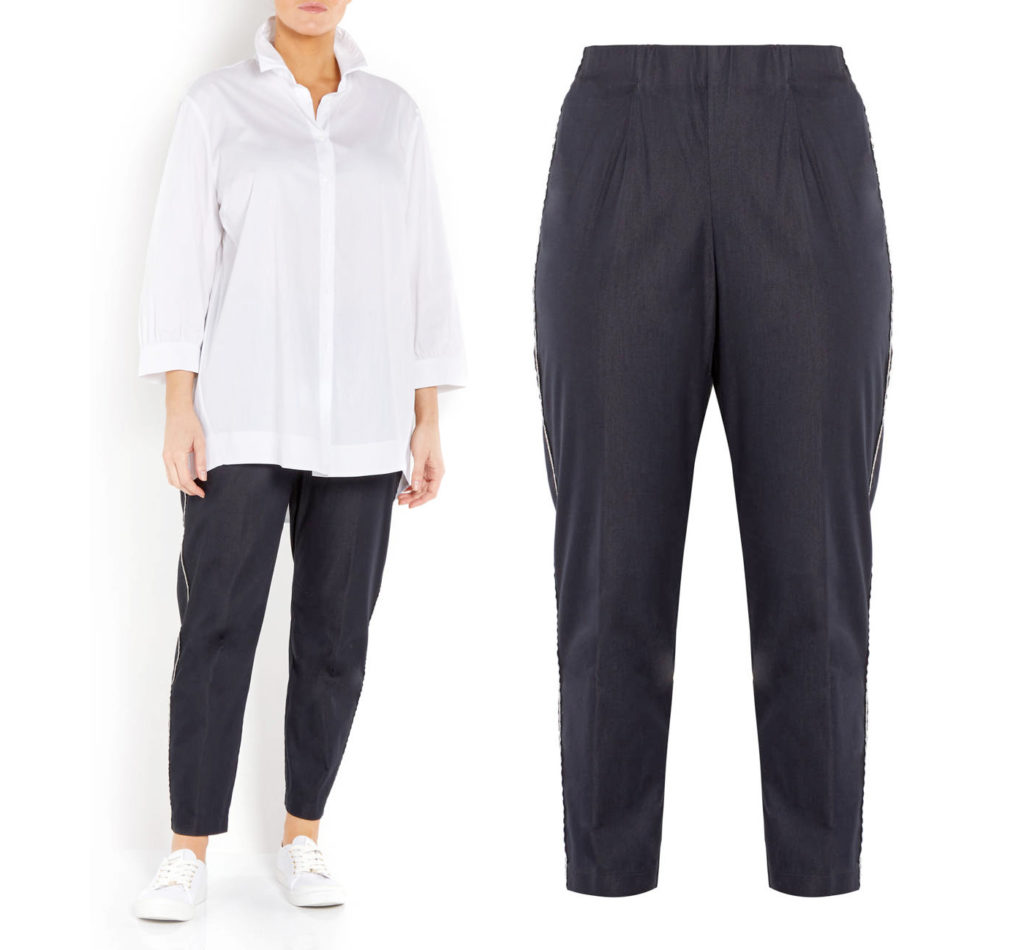 This one is an absolute no-brainer, you will always need a pair of black trousers in your wardrobe and Verpass are one of our favourite designers. Verpass has been making clothes for plus size women for almost half a century so they know how to cut a trouser. These pull-on trousers have an elasticated waist for extra comfort and they will coordinate with almost anything. Also available in navy.
Verpass Paisley Twinset
This twinset by Verpass will make a versatile addition to your capsule wardrobe. Wear as an ensemble or split the cardigan and the top up and mix and match them with different outfits. The longline knitted grey cardigan is a perfect piece to complete any casual outfit and the satin paisley top is ideal for holidays or weekends. If you know how to work your capsule wardrobe you'll get a whole host of outfits from this elegant pairing.
There are many more bargains to be had. Visit our boutique on New Cavendish Street in the heart of London's Marylebone or visit the Sale Shop where you will discover hundreds of designer plus size pieces from Size 16 to 28 at up to 75% off!