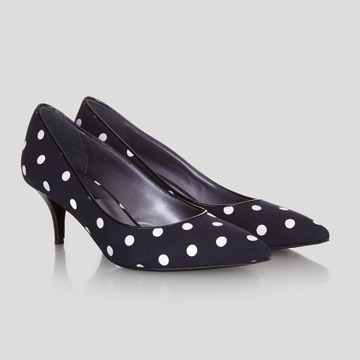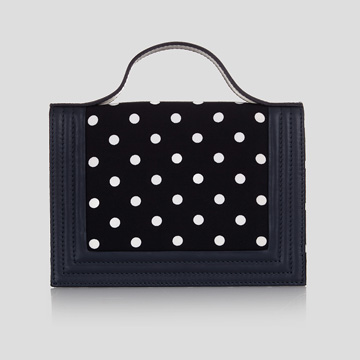 Marina Rinaldi – Navy polka dot shoes
Marina Rinaldi – Navy polka dot handbag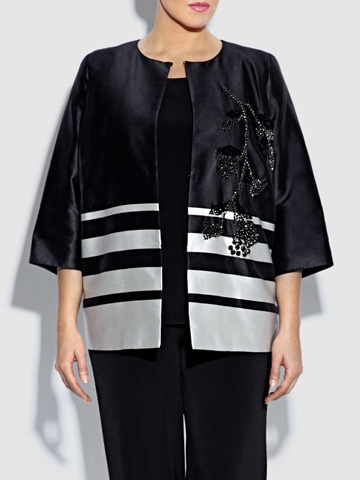 Marina Rinaldi – mikado jacket
Working for Beige Plus
So, on the first day of my 2 month internship at Beige Plus, when I got home at a reasonable hour covered by travel expenses and told my parents "I've learnt more at Beige in one day than I did in a month at fashion college", we all agreed it was probably too good to be true and there was some catch.
Two months later, I can safely say there is absolutely no down side to this internship. As well as being properly trained in tasks like checking in and shipping stock, tagging and steaming garments, processing returns and sending out orders to the loyal customer base that Beige has acquired, I've also been brought along to a photo shoot at Max Mara's Marina Rinaldi showroom. I got a firsthand experience of how a fashion company's warehouse stays in order and most of all, have had the chance to witness the exciting and sometimes crazy reality of how a small, home-grown business runs.
As well as learning practical and technical skills, I have also learnt a lot about myself through this internship. I now have a complete understanding through the owners, Leanda and Jonathan, of how intense the daily running of a business can be.
Everything falls on their shoulders and I have never been more inspired than by these two individuals who regularly overcome the daily hurdles of running their own business to create a wonderful, stylish, family oriented business that everyone should either want to shop at, or work for (I encourage both).
Plus Size Fashion with Beige Plus
As in every job, there have been fluctuations of busy days and more chilled days (this usually lasts only about 10 minutes before another package arrives at the office), but the last few weeks have been more hectic than usual because of all the Spring/Summer 2016 stock that's been arriving daily, and I couldn't help but notice these beauties which are great for curvy girls!
Firstly I spotted this lovely plus size navy dress which is great for formal work wear, which would go perfectly with these navy shoes, which are also available in a cut coral colour. Plus this mikado jacket makes a great transitional piece for between seasons! Now all I have to do is to convince them to do a petite range alongside their amazing plus size range!
Follow me through my year of internships!
Twitter: @kerristolerman
Instagram: kerri_stolerman
Next stop – Love magazine!
Inject effortless style into your wardrobe by shopping plus size women's clothing at Beige Plus.