Beige has always known – style comes in every shape and size. Our mission is to ensure plus size women of all ages have the same wealth of options when it comes to fashion as everyone else.
The company was founded by Leanda Walters fourteen years ago. Frustrated by the lack of choice available to plus size women, she created a place where women from size 16 to 28 could enjoy quality, style and luxury. Leanda personally handpicks the collection each season selecting the very best pieces from plus-size collections such as Marina Rinaldi, Basler, Elena Miro, Georgedé, Verpass, Yoek and many more…
Every Beige boutique is staffed by stylists with years of experience in the fashion industry because we don't just want to sell you clothes; we want you to leave Beige looking better than you ever imagined you could.
Drawing on our wealth of experience dressing curvy women we've gathered some of the very best pieces of fashion advice from our stylists.
We don't believe in being prescriptive but we do believe that in order to break the rules you must understand them first.
All our stylists agreed that there is just one rule that must always be adhered to:
whatever you're wearing you've got to feel good in it.
Tips from our stylists
"Get the bra right and look for princess-cut clothes if you are large busted.
A patterned top hides the 'bits we are not so fond of' much more successfully than a solid colour."
– Hennie Fearnley from our West End Shop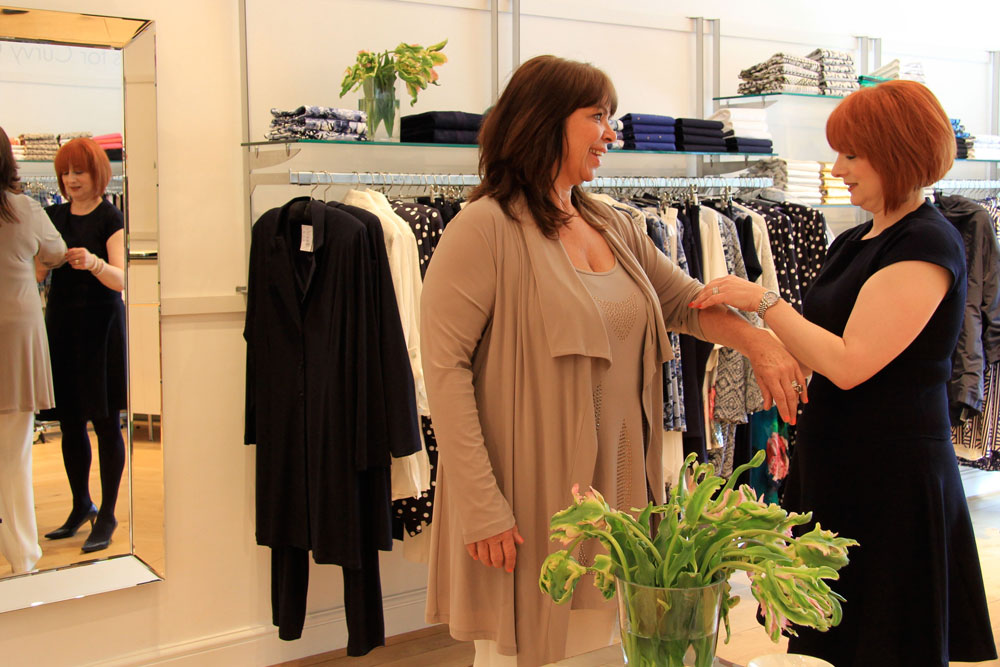 "You don't need to necessarily keep up with fashion but to keep
contemporary – nothing ages a person more than looking as if you are stuck
in a time warp."
"I always admire women with spirit who are determined to look their best, even if only for themselves. They get up in the morning, put on their makeup, take care when dressing and go and look the world in the eye. Clothing can definitely be a crutch and why not, we need to take support from wherever we can get it."
– Julia Zubaida from our North London Shop
"Life's too short to dress boringly!"
"It's all very well having style icons, but allow them to inspire you rather than try to directly emulate their look. Chances are someone else's personal style won't look or feel the same on you."
– Isabelle Zubaida from our Web Team
"Always start feeling good from the inside out. Wear good fitting lingerie that improves your posture and gives you confidence in any outfit you try. Never underestimate the power of putting your best breasts forward…"
"Never walk into a store without feeling like you. Enjoy your styling experience. In today's world we are always so busy, enjoy your time out to concentrate on you."
"Think capsule wardrobe. Pick eight key pieces that you adore. You know that every time you reach into your wardrobe you are going pull out something out you feel comfortable and fabulous in."
"Make sizes invisible to you…they say age is nothing but a number, well size is too! Wear the correct size that fits you and looks great. The label is nothing but a secret between you and us."
Lorraine and Kelly from our City shop
"Don't get stuck in your comfort zone. Experiment with fashion. Try things on. Add an arm solution to a sleeveless dress to achieve a new look. Tunics look great with slim line trousers."
"Invest in yourself. Pamper yourself with a great haircut, regular facials, manicures and pedicures. A good self-care regime helps to enhance your confidence and inner-radiance."
"Don't underestimate the importance of accessories. Treat yourself to a luxury leather handbag. A well-chosen good quality handbag will always make an impression."
– Vilma Barokh from our North London Shop
"Choose V or scooped necklines to soften broad shoulders and minimise the bust line then add a pair of soft shoulder pads for balance."
– Denise Franklin from our West End Shop
"For plus size women our advice is: always go bigger then alter to fit. This way you will get tailor made clothes for the fraction of the price and it will always look more expensive and luxurious."
– Lorraine from our City Shop
"For a pear shape customer keep the attention on the upper body: choose tops with interesting details or patterns."
– Yasmine Veazey from our West End Shop
"Curvy girls often have difficulty in finding the right trouser fit. A good plus size collection will always feature trousers that are cut higher at the back of the waist, this will accommodate a curvy bottom and eliminate an unflattering gap at the back of the waist".
– Beverley Lee from our West End Shop
Our stylists have selected some of their favourite pieces from the autumn/winter 2016 collection: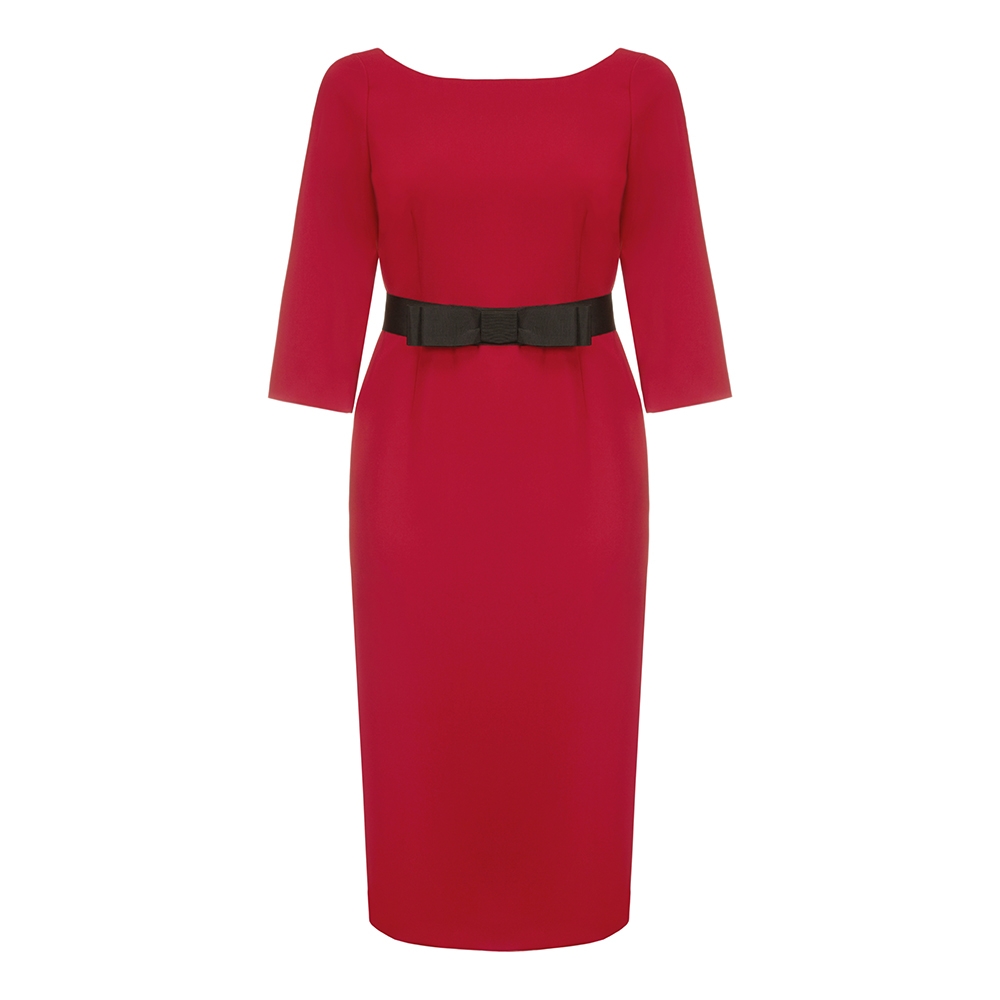 Red is very much in vogue this winter. Make a statement in this bold and sexy Marina Rinaldi dress. The cinched waist makes this dress perfect for an hour glass figure.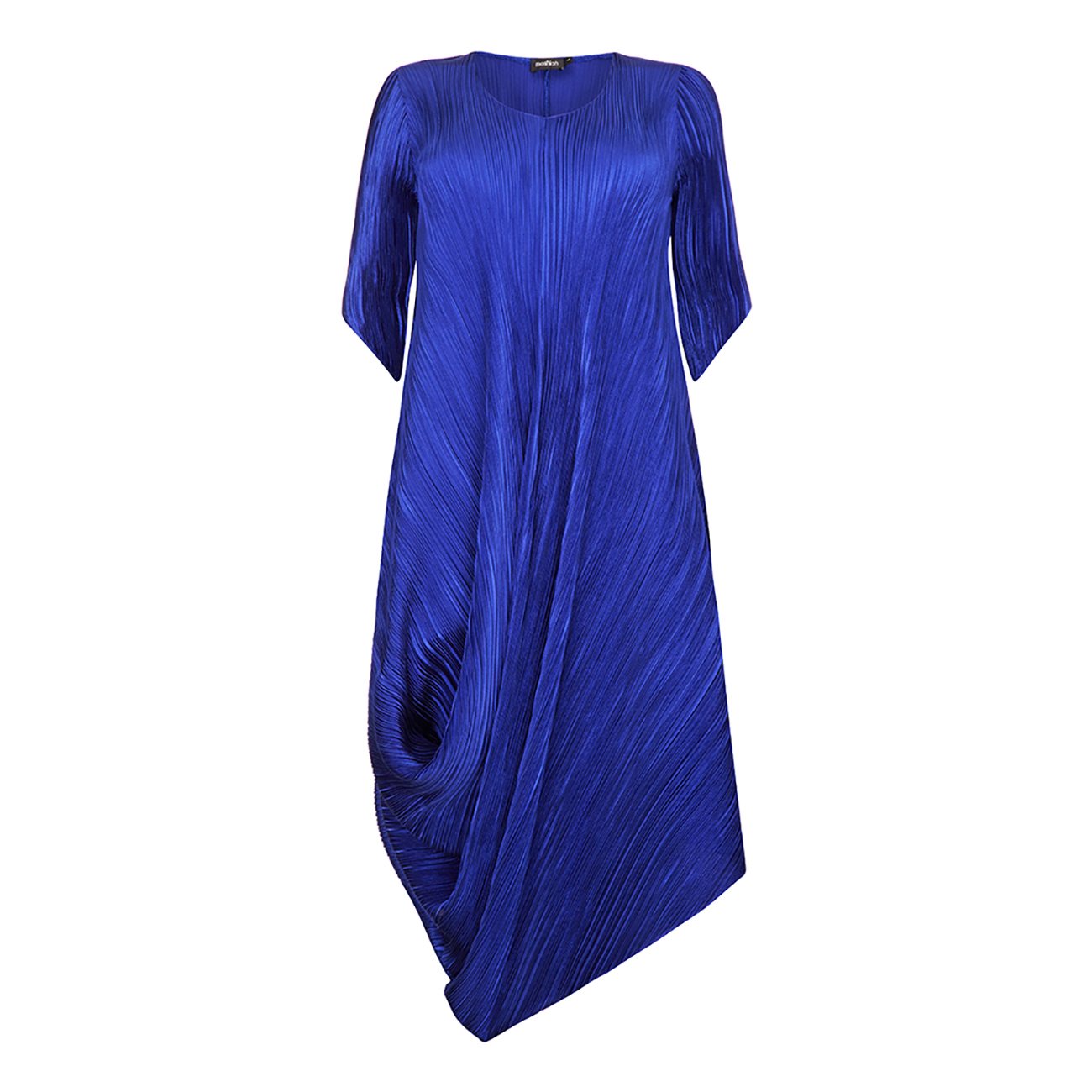 Make an impression with this Mashiah statement dress. For a pear shape, the deep neckline draws attention to the décolleté whilst the asymmetric hem creates an optical illusion. Cobalt blue is one of this season's most desirable colours.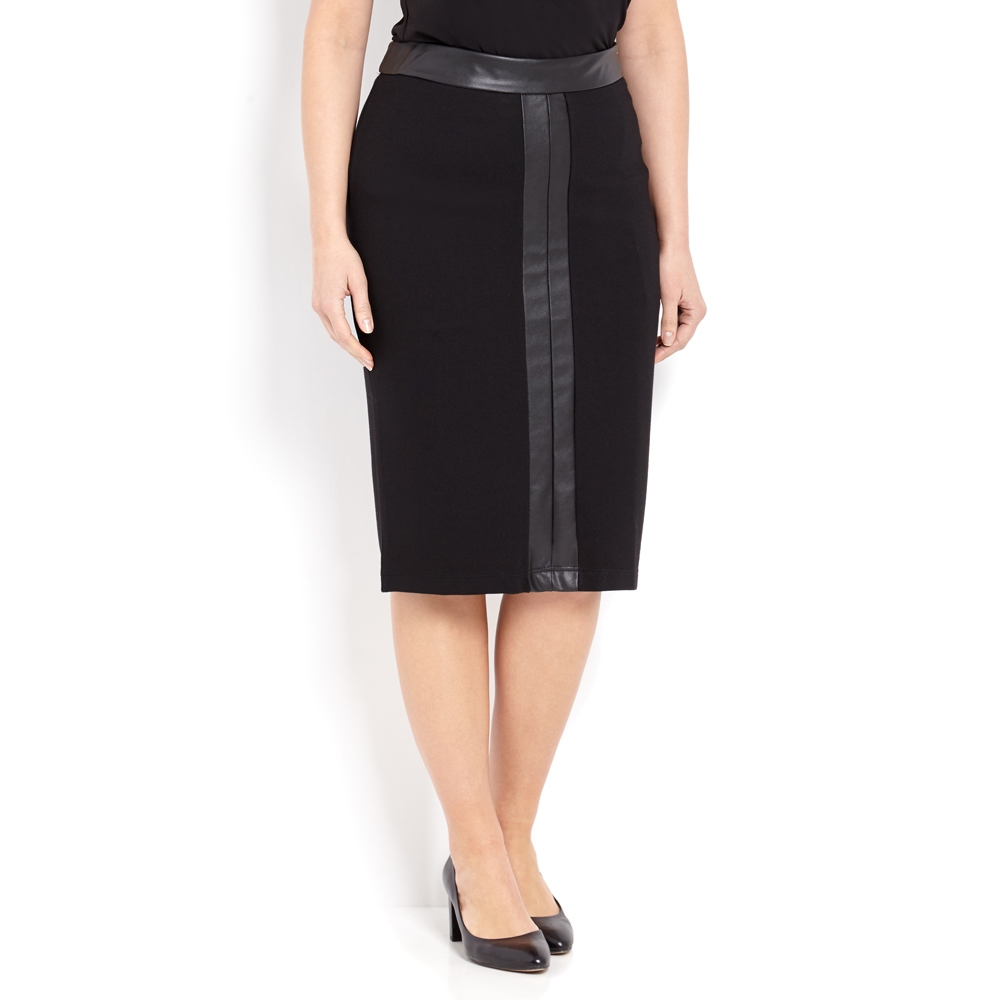 "Pencil skirts accentuate the waist and define curves." We love this sharp black pencil skirt; the leather-look inserts add an extra dash of sexy. It's a wardrobe staple that will take you anywhere.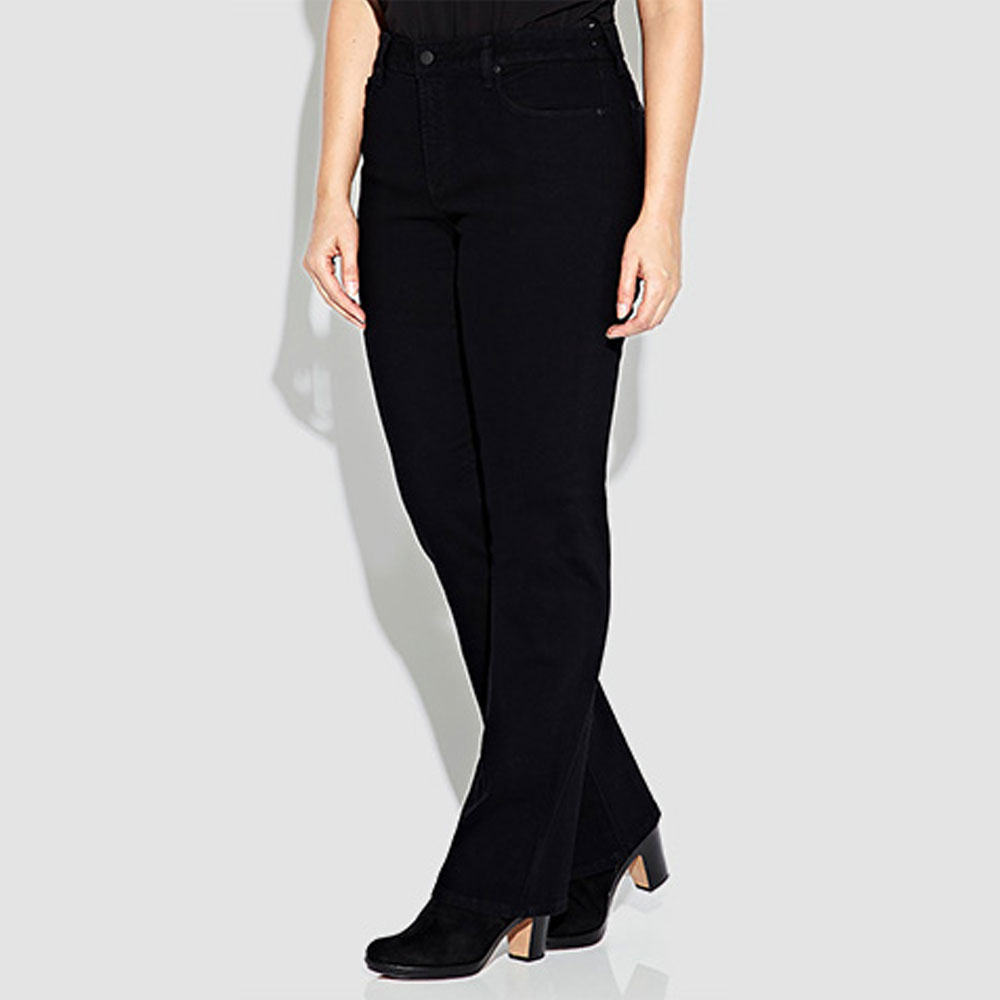 If you don't have a pair of NYDJ jeans in your wardrobe then, where have you been? These curve defining denims are an absolute must have! Apple shapes should go for a high rise jean. Hourglass figures should opt for a boot cut. Pear shapes tend to suit a wide leg. We stock them from size 18 up to a size 28!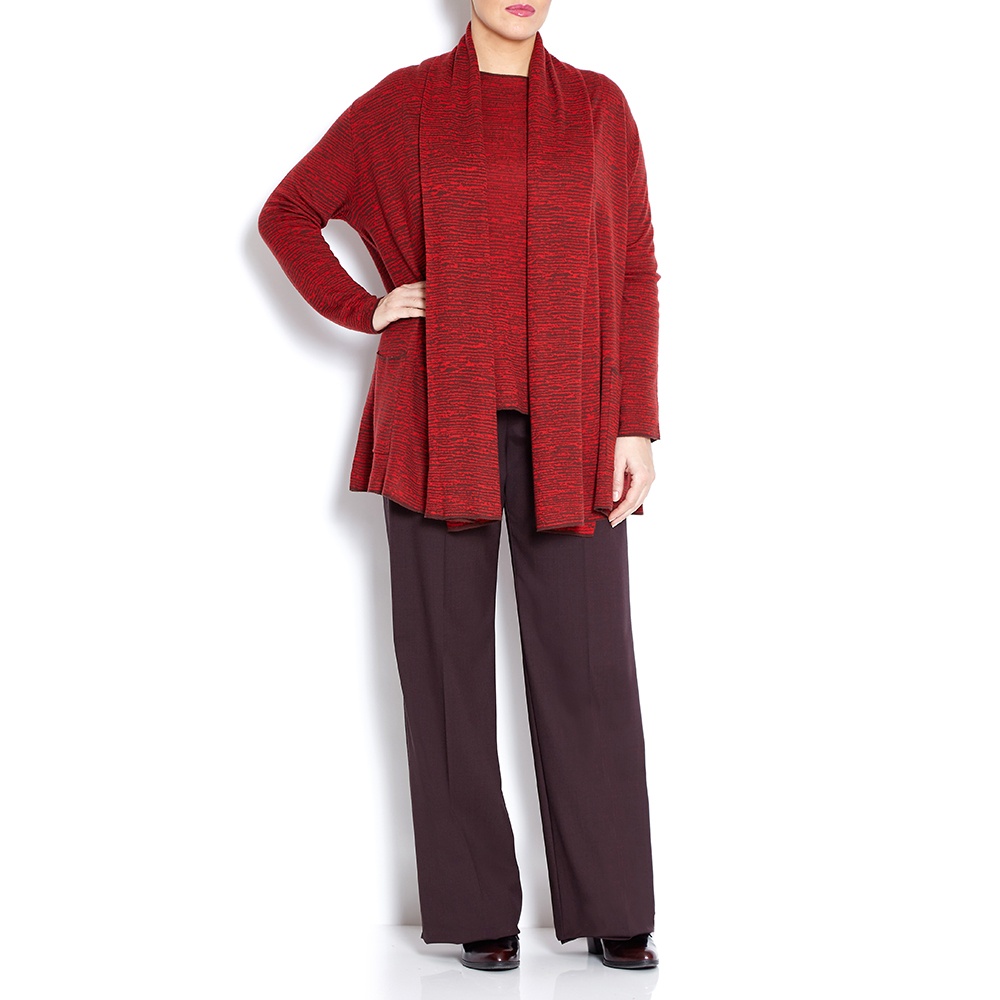 A wide leg palazzo trouser tends to suit a pear shape. These Marina Rinaldi trousers in rich aubergine are effortlessly elegant.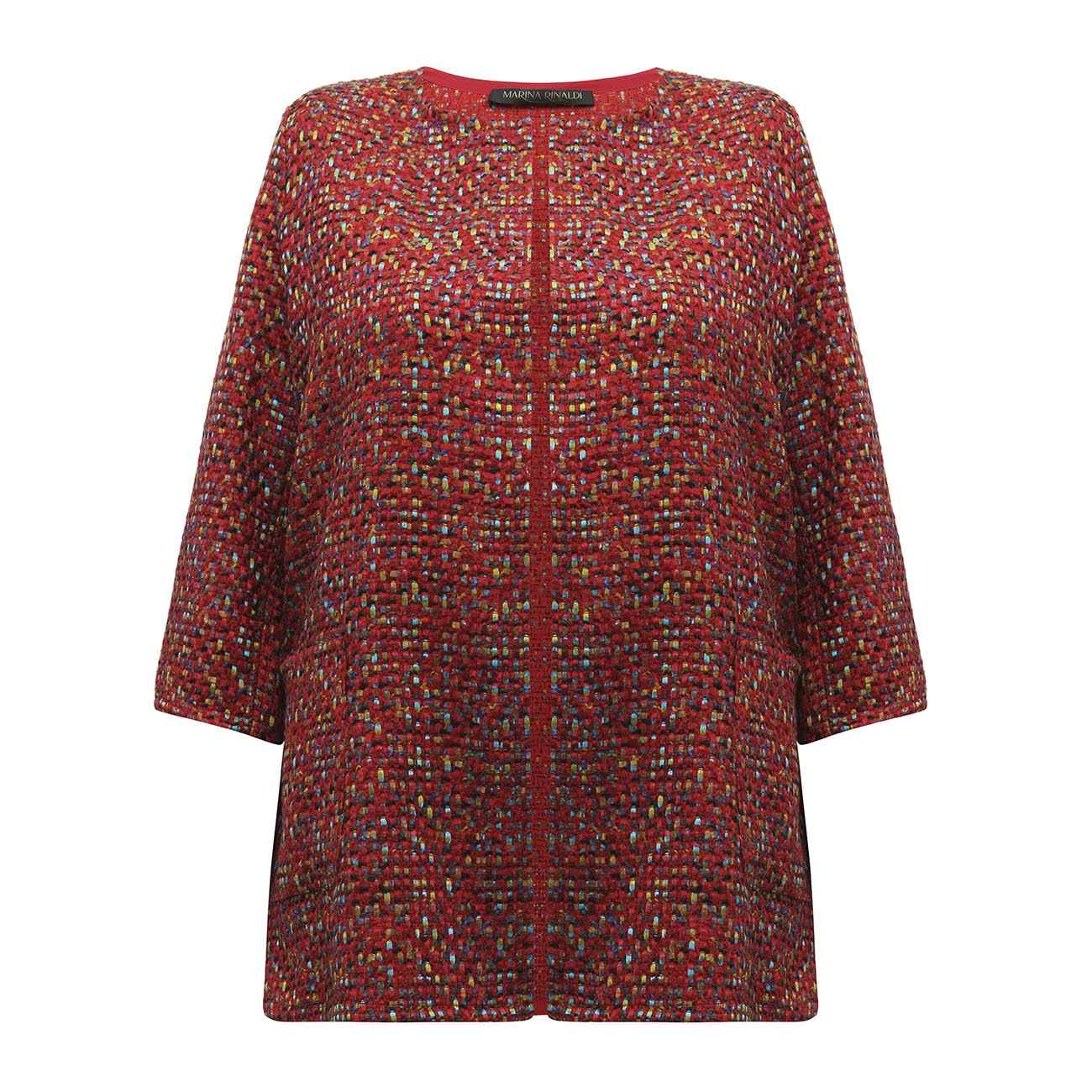 This soft woven jacket is flecked with vibrant colours and will coordinate with almost anything. The free flowing cut and hip skimming length makes it perfect for an apple shape.