As pretty as an ice cream, your spring wardrobe can expect to be bursting with pale hues from yellow, to lilac, green to pink.
Here are some of BeigePlus' favourite pastel looks to inspire your take on the trend.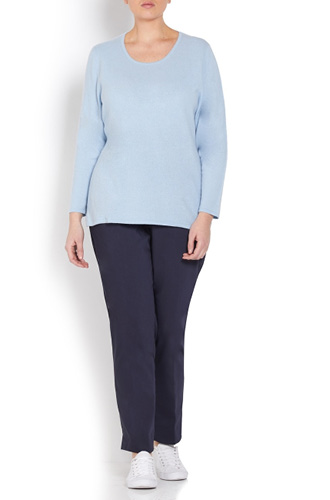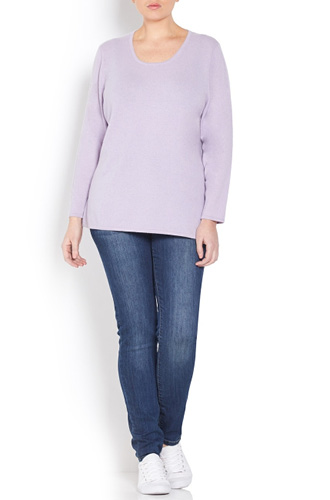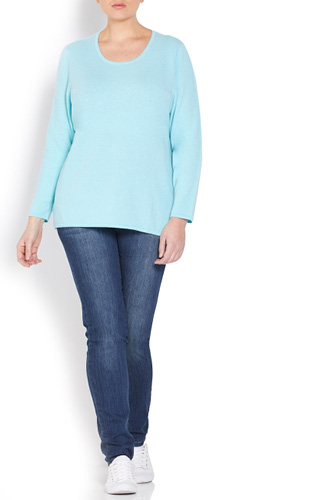 A pastel coloured cashmere sweater, combined with jeans, is a great way to ease your way through the early spring days when there is still a chill in the air. This sweater from Sandra Portelli is made from the best quality cashmere and is available up to a size 28.The long sleeves are set-in at the shoulder and are tapered down to the cuff, this combined with the V neck make it a flattering shape for larger sizes. We suggest that you take a size larger than your usual, if you want to get the trendy tunic look. Fall in love with our
sweater collection updated for SS18
.BeigePlus source their collection from some of the world's finest designers, including Mashiah Arrive, Verpass and exquisite cashmere from Sandra Portelli. The buying team at BeigePlus work with these designers to bring you the best pieces. The final edit is a selection of clothes that are flattering and comfortable.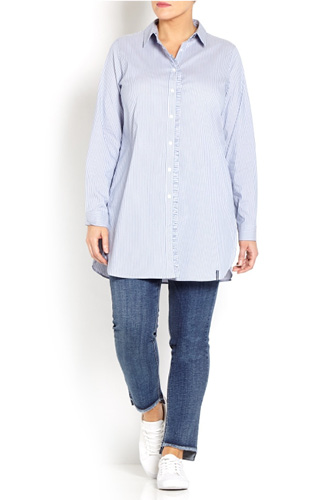 The striped shirt
Persona by Marina Rinaldi has transformed the humble striped shirt. In fact, now it's long enough to be a tunic, you can roll up the sleeves and combine with jeans or wear on vacation with shorts and sandals. We think that it's sharp enough to wear with navy narrow trousers for a chic city look.
Finely striped blue cotton cleverly mixed with elastane gives it stretch for comfort. A cute ruffle front and pockets makes it a great, versatile cover up.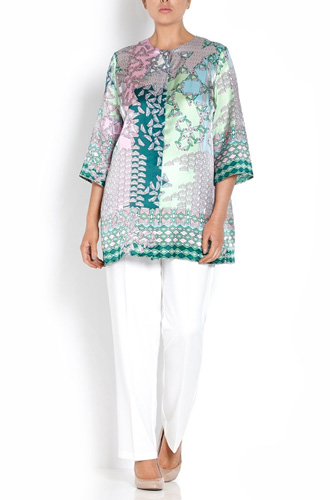 The Printed Jacket
Marina Rinaldi have created a unique pure silk, scarf print jacket shown here worn as a tunic over ivory trousers by Verpass. However, you could wear it open with a camisole underneath or if you are curvy, then use the belt that comes with it to show off your waist.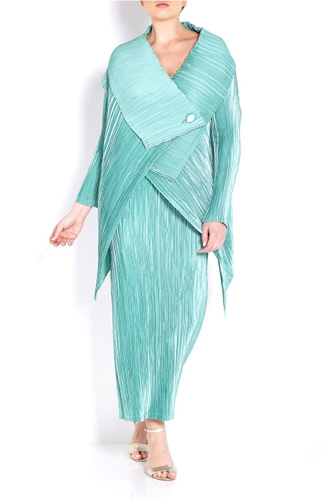 Mother of the Bride (or Groom)?
Pastels are a firm favourite for weddings. A finely pleated satin dress and jacket in soft sugar almond pink or gentle aqua is the perfect answer. Change your outfit from vision to reality and pick your favourite piece from our wedding guest outfits.
The designers know how to drape finest pleats around a woman's body, to create flattering shapes and ensure that you look glamourous and stay comfortable. Mashiah Arrive is a truly unique collection.
Get the latest trends for SS18 from BeigePlus!
If you need to update your wardrobe for the new season why not drop in to one of our three stores in London. Our staff can assist you in finding the perfect pieces to complement your shape and style!
If you need styling advice call 020 7831 5777 or if you need advice about an order you have placed please call on 020 8455 0005 and we'd be happy to help! You can also get in touch with our friendly team online!