Elena Miro is a chic, Italian fashion house that has been catering for the plus size woman since 1985.
The house has grown to contain several divisions and differentiated lines including Miro Sport, sporty jackets, easy to wear fabrics, t-shirts and tops; Griffe print t-shirts, knitwear and soft separates; Blue Time, on trend t-shirts with fantastic prints and embellishments, cute, tailored suiting and bejeweled detailed knitwear.
The team at Elena Miro are experts in translating trends to a plus size silhouette making sure the collections are always stylish, well cut and chic.
From 2005, Elena Miro was the only plus size brand to show at the Milano Moda Donna, not bad for an industry that is obsessed with size zero.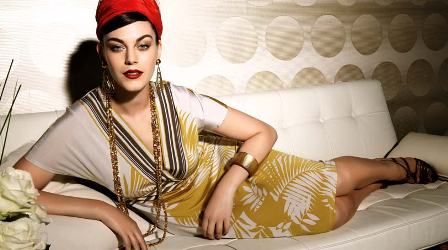 The AW11 Atelier Elena Miro collection is very sexy dolce vita in style and again picks up on the 40's trend. Pencil skirts in midnight blue lace teamed with sheer and satin blouses feel very Parisian and incredibly sassy, big bow and brooch necklines draw definite inspiration from Dolce and Gabbana. In keeping with the Parisian theme, there is a nod to Mr. Karl Lagerfeld with lashings of boucle in slightly more boyfriend blazer cuts. Elena Miro plus size image 3Teaming black and midnight blue is so beautiful for the evening and Elena Miro do so with ease. A blocked coloured blue evening coat with black border is absolutely divine and this colour blocking idea is carried through to a satin jacket and a line skirt suit. Skinny ribbon, bow, belts add a cuteness to a collection rather than making it too grown up. Post war nostalgia in black pencil dresses with asymmetric lace detailing is really a showstopper for a plus size collection, but the move into Dior style tailoring, simply seals the deal. Silver grey, cropped fur jackets, fur trim sleeves, neat trouser suits and purple with cache paint prints show that plus size catwalk fashion can be incredibly beautiful.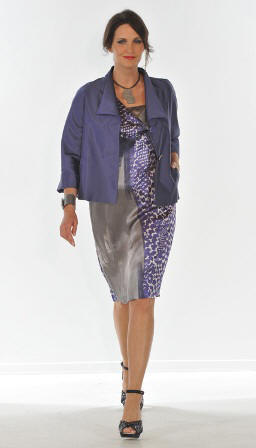 This season expect more gorgeous knitwear, embellished tops and soft separates, great jackets and cute skirt suits will also be featured. While Elena Miro's plus size collection takes to the runway you can ensure you have a bit of Milanese fashion right there in your wardrobe too.
Shop Elena Miro clothing online.
Beige Plus is the home of designer plus size clothing.