When it comes to December there's lots of parties, dinners and balls to attend. Finding different dresses for each occasion can be a challenge, but Beige Plus has plenty of glamourous dresses to keep you going through the party season.
Plus Size Designer Partywear
BeigePlus work all year to find the perfect party outfits for the festive season. We are the largest stockists of plus size designer dresses in the UK, so you know you're in good hands when you come to look for your Christmas party outfits! Whether it's your work Christmas event or a formal ball, you can find an elegant, flattering frock that will make you feel wonderful for the whole event. Beige have put together a few of our favourites to help you get inspired for the festive party season!
Special Occasion Dresses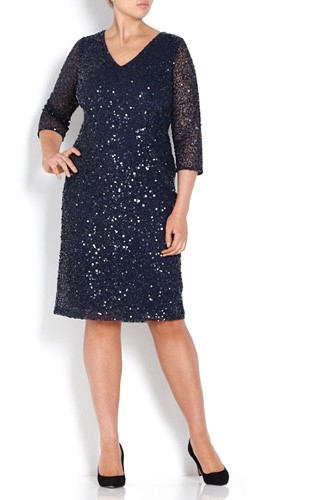 Beige Label Midnight Blue Sequinned Dress
Sparkle the night away in this elegant dress from BeigePlus. Available in sizes 18-28 and three different colours (black, midnight blue and silver), this sparkly number will see you through many Christmas parties. The shift style dress is shaped to create a silhouette shape, flattering your figure. Pair with suede heels and clutch for a glamourous outfit this Christmas.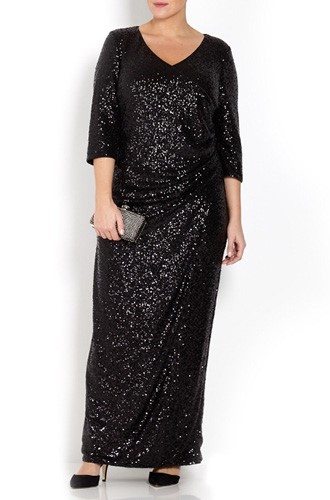 Beige Label Black Sequinned Gown
If you have a formal event to attend and want to wear something comfortable but still a show-stopper, then this spectacular sequinned gown from Marina Rinaldi is the perfect choice. Also available in a stunning ruby red, you will make an entrance with this elegant and festive frock that's designed to show off your curves in all the right places.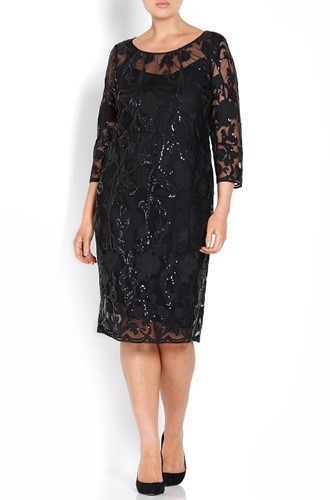 Marina Rinaldi Black Sequinned Lace Dress
Marina Rinaldi is famous for creating intricate designs, bold prints and fancy patterns, and this little black dress doesn't disappoint. With a sheer fabric layer and black slip dress underneath, it's a chic dress with sequin and floral embroidered detail that will keep you confident and looking great through the festive season.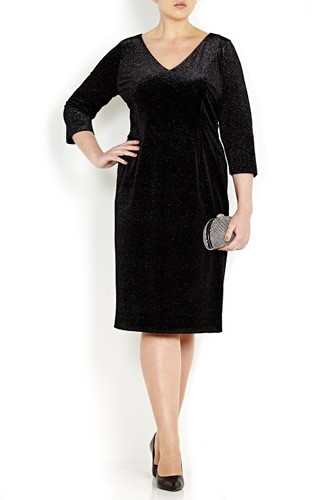 Marina Rinaldi Black Shimmering Velvet Dress
If you want a stylish, flattering dress without any fussy details and sequins, this little black dress from Marina Rinaldi will tick all the boxes. With a subtle shimmer you will feel glamourous and comfortable with three-quarter sleeves and comfortable velvet that hugs your figure in all the right places.
Visit Beige for plus size partywear
BeigePlus is the UK's largest destination for plus size designer clothing. Working with some of the world's finest fashion houses and labels in formal occasion wear, you can find comfortable, practical clothing for any occasion. You can visit us in one of our three London stores where our staff are on hand to give you the best experience when shopping for new clothes.
If you'd like help when it comes to finding the perfect party frock, you can get in touch with BeigePlus on 020 8455 0005 or you can contact us online and we'll reply as soon as possible.