When shopping for clothes, you should always remember that not every style will suit your shape, but there are many style options you can choose from that will flatter your body shape perfectly. Whether you're an apple, a pear or an hourglass, your goal should always be to highlight your curves, hot hide them!
Women's clothing designed to fit
The collection of designer clothing at BeigePlus comes from some of the finest designers in the world, including Marina Rinaldi, NYDJ, Persona by Marina Rinaldi and more, giving you a great selection of styles, fabrics and fits to choose from to suit your shape.
Pear
A pear shape is defined by hips that are wider than your shoulders with a defined waist and smaller upper-body. The trick is to create the illusion of broadened shoulders with boat necks and high necklines or A-line skirts that skim over your hips. Ruffle necks also draw attention away from your bottom half. See below for some of the perfect pieces.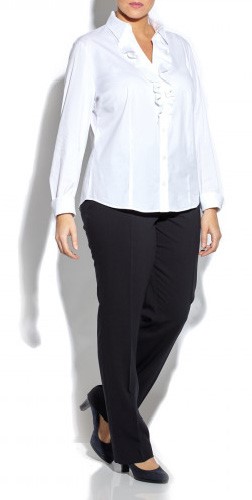 Choose a ruffled shirt that draws attention to your top half and helps to create the illusion of an hour glass!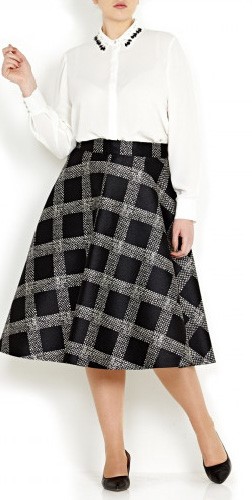 An A-line skirt will accentuate your waist and broaden your shoulders – perfect for the pear shape!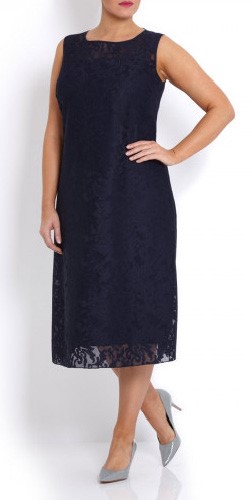 A square neckline dress broadens the shoulders and evens out your curves for a simple, elegant look.
Apple
If you have a fuller, rounder torso you're likely to have an apple body shape with broad shoulders. Clothes that draw attention away from your upper-body and elongate your legs should become the bread and butter of your wardrobe. Pieces like structured jackets and dresses will create a waistline, and V-neck tops will elongate your torso.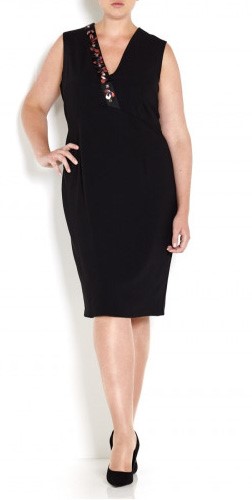 This structured dress from Persona by Marina Rinaldi creates a waist and the V-neck makes the torso appear longer.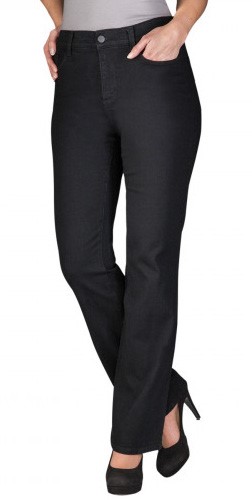 Bootcut jeans elongate the legs and NYDJ are famous for their flattering fit.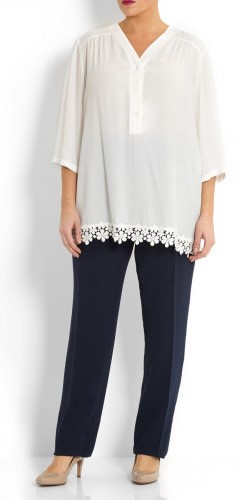 This tunic will create the illusion of a longer torso sitting just under the hips. The v-neck also elongates the neck and the lace hem adds a feminine touch.
Hourglass
If your top half and bottom half are of a similar proportion, set off with a smaller waist you're most likely an hourglass shape. With an hourglass figure, your curves are your best assets, and when dressed in flattering fitted clothes, you will always look and feel fabulous. The key to finding clothes for an hourglass is to find clothes which hug your curves, cinch your waist and slim down your bust for an even shape. V-necks and sweethearts are your friend, as are high waisted skirts, skinny jeans and belts to accentuate your curves.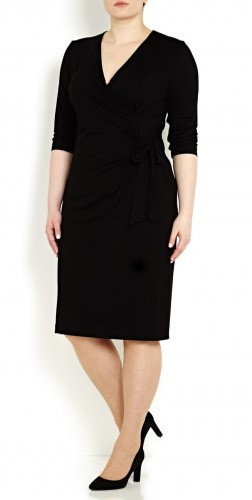 Beige's own fitted jersey wrap dress is perfect for an hourglass figure, slimming the bust with a V-neck while a gathered waist will show off your curves!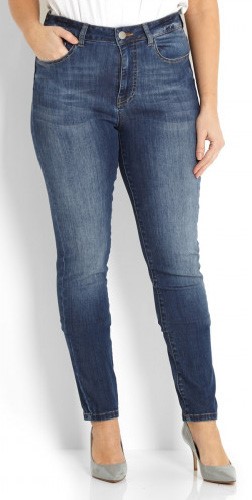 Skinny jeans slim down your legs and are a stylish option for the weekend or a shopping trip. The denim 5-pocket jeans from Beige will show off your curves in all the right places!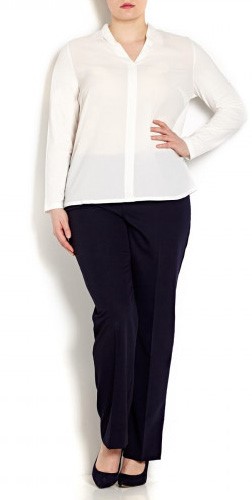 Choose a V-neck top for work or important client meetings for a professional look. This Basler crepe top is perfect for evening out your hourglass figure.
Shop for your shape
BeigePlus know how to dress different shapes, and our team are always on hand in one of our three London stores to give you advice on what styles suit your shape! Shop our collection of amazing designer clothing and visit us in store!
Alternatively, go online and start shopping for designer plus size clothing.