It is essential that your wardrobe has all the outfits necessary for the office, work meetings, days away seeing clients and lunches separate from your everyday wear.
They say if you're dressed in formal attire for work, you'll feel more productive and get more done, so have a look at some of our favourites from some of the world's finest designers for your work wardrobe.
Plus size business wear
We know that you want to be comfortable and look great, so we've chosen some options that can be styled with various pieces to give you an elegant, sophisticated work style. Choose from tailored pieces from French designer Basler for a cool, edgy look or choose Marina Rinaldi for colourful patterns and textured fabrics.
The Suit
A suit is a safe option for work, it's easy to wear, looks clean and smart and can be styled with various pieces to create a formal, workwear outfit. Navy is an alternative colour to black and still gives a professional impression.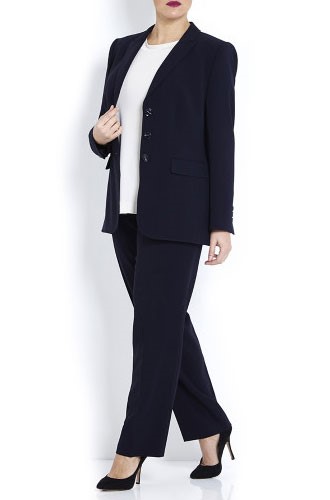 This Basler navy jacket is tailored to fit your shape. Leave open for a more casual feel or button once in the centre to accentuate your waist. Can be worn with jeans for a smart casual look for other occasions!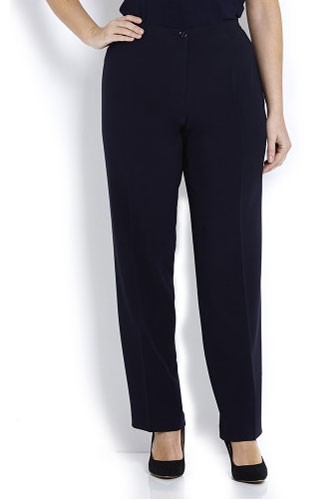 Worn with the Basler navy jacket, these straight leg tailored trousers will frame your silhouette perfectly. The tailored fit is slimming and skims over thighs to elongate legs. Great for client meetings!
The Dress
Dresses are timeless and work whatever the weather, paired with tights, a pair of court heels, a jacket and you're good to go. BeigePlus stock a range of plus sized designer dresses, perfect for wearing at the office rain or shine and for client lunches. We have picked our favourite three from this season's fashion that we think you'll love for your work wardrobe!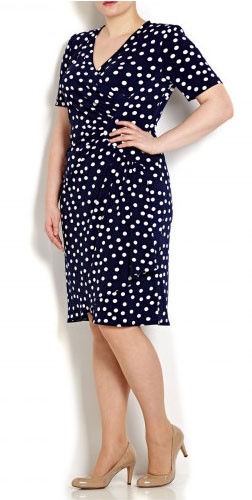 Bold white polka dots on a navy background is playful but still professional. The wrap style dress accentuates curves and is a contemporary take on the classic style.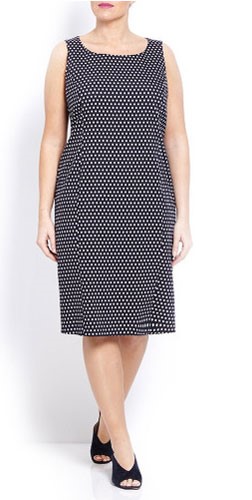 For a more formal look, choose this navy polka dot dress with optional sleeves. Wear with the Basler tailored jacket for a truly professional look.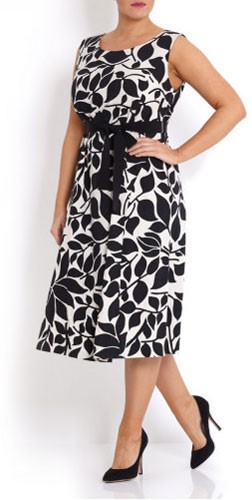 This gorgeous bold print dress from Marina Rinaldi comes with an optional belt. Wear without for a lovely swing dress or wear with to highlight your waist!
The Tailored Trouser
Simply wearing a pair of well-fitting trousers with a bold coloured top is a smart look perfect for everyday wear in the office. Team with a pendant necklace and handbag for a simple and sophisticated work ensemble.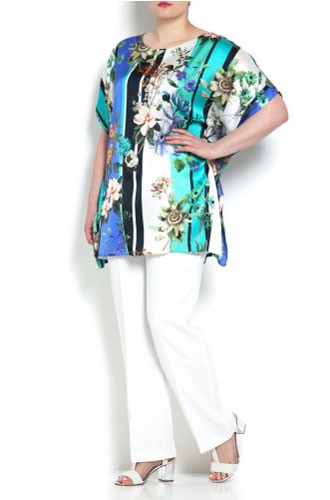 Add a pop of colour to your work wardrobe with this beautiful kaftan from Piero Moretti. The vertical lines are slimming and the detail is stunning. Wear with black or white trousers for an easy work outfit.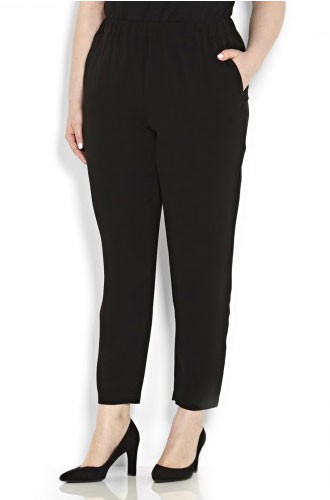 These tailored trousers from Marina Rinaldi are cut are slightly cropped for an edgy, clean look. The tailored look is professional, comfortable and will look great worn with the Piero Moretti turquoise kaftan.
The Skirt
A pencil skirt is an elegant way to create a feminine silhouette and still be comfortable in the office. Worn with brightly coloured tops or blouses or paired with a smart blazer, it's an outfit that can be smart casual or simply smart.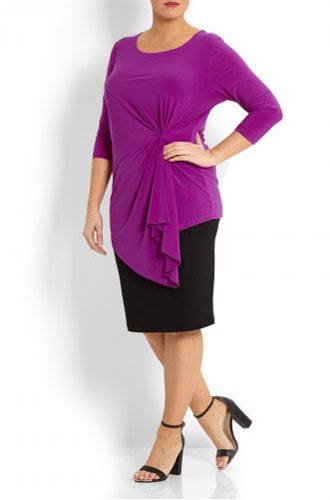 This tie front top from Yeok creates a delicate silhouette with the knot detail to one side. The long front flatters the tummy area and creates the image of a longer body.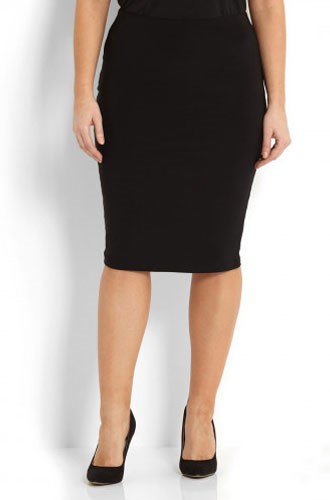 This beautiful silky jersey pencil skirt from Yeok is made from a stretchy material for a comfortable office outfit. Pair with a simple white shirt for a more formal look, or wear with the Yeok asymmetric top for a touch of colour.
Designer clothing for work from Beige
Beige travel the world to bring you the largest plus size collection of designer clothing in the UK. Visit us in store at one of our three stores in London where you can browse at your leisure and enjoy refreshments while you shop. Our staff are on hand to help you pick your perfect work wardrobe and help you choose pieces that flatter your shape!
For more information, get in touch with our team on 020 8455 0005 and we'd be happy to assist you in finding the perfect outfit! You can also get in touch online for any other enquiries.