Our creative director Leanda Walters has been dressing plus size women for over a decade.
As a plus woman herself, she instinctively understands the needs of the size 18+ woman. I spoke to her about her own personal style, the brands she favours and about the SS18 key pieces that have found their way from our boutiques and into her own wardrobe.
An Interview with Leanda
AB: As a successful fashion industry entrepreneur, you obviously have to look the part. How do you dress for an important business meeting?
LW: If it's a business meeting, call me old fashioned but…I tend to wear some kind of blazer or jacket. I like jackets because I'm pear shaped and they balance me out. I don't wear anything sexy or pretty. I want to be taken seriously. A jacket means business. I don't always do a matching bottom though. I recognise that I'm in the fashion industry so I like to add a twist. One of my current favourite looks is a blazer teamed with a pleated Marina Rinaldi maxi skirt. I love the contrast of the serious and structured jacket with the playful and fluid skirt.
If I'm attending a serious meeting I want to be comfortable. I don't want to feel like my Spanx are rolling over or my shoes are hurting. That's essential in a business environment.
Although the top half of me is a size 18, I often buy size 20 Marina Rinaldi jackets and have them shaped – we have a great tailoring service in our stores. I want my jackets to fit perfectly, and so I go up a size to accommodate my hips, then I have the top of the jacket customised to fit my pear shape. Having your garments altered to suit your shape is something I strongly recommend to other plus size women. I believe that fit is everything.
AB: You set up Beige with your partner Jon. It must be hard to keep things fresh and romantic when you spend long hours working and living together. How do you make yourself fabulous for a date night?
LW: Fashion is my business so I tend to keep it casual at the weekend. Fortunately for me, Jon prefers the natural look so I tend to get more dressed up for work events than on dates. When we're not working we like to unwind with long walks on Hampstead Heath on a Sunday. We finish our strolls at The Coffee Cup in Hampstead Village – we read the Sunday papers and indulge in hot chocolate with whipped cream and cinnamon raisin toast. Jon is a very sporty person so he prefers me to wear comfortable clothes so I can keep up with him. The Ashley Graham long denim shirt teamed with a crisp white t-shirt and a pair of NP jeans (or go for NYDJ if you're an apple shape) is a perfect look for those leisurely Sundays.
We're also planning to spend a weekend at an antiques fair soon. I'll be packing my Sandra Portelli cashmere sweaters in pastel colours – perfect for the winter to spring transition period.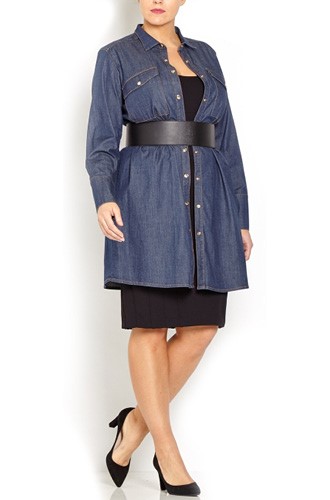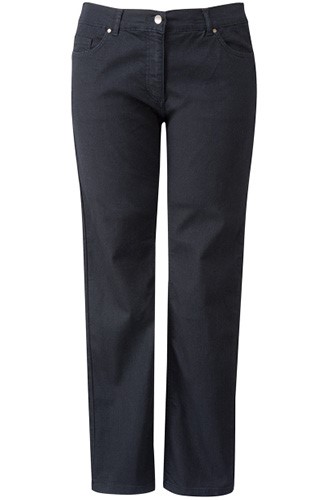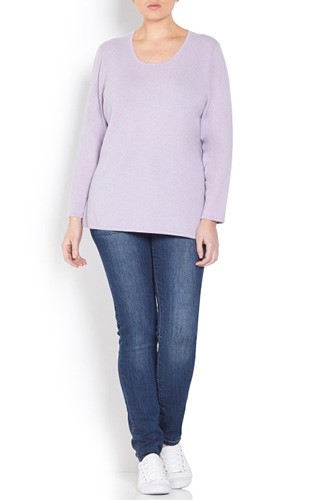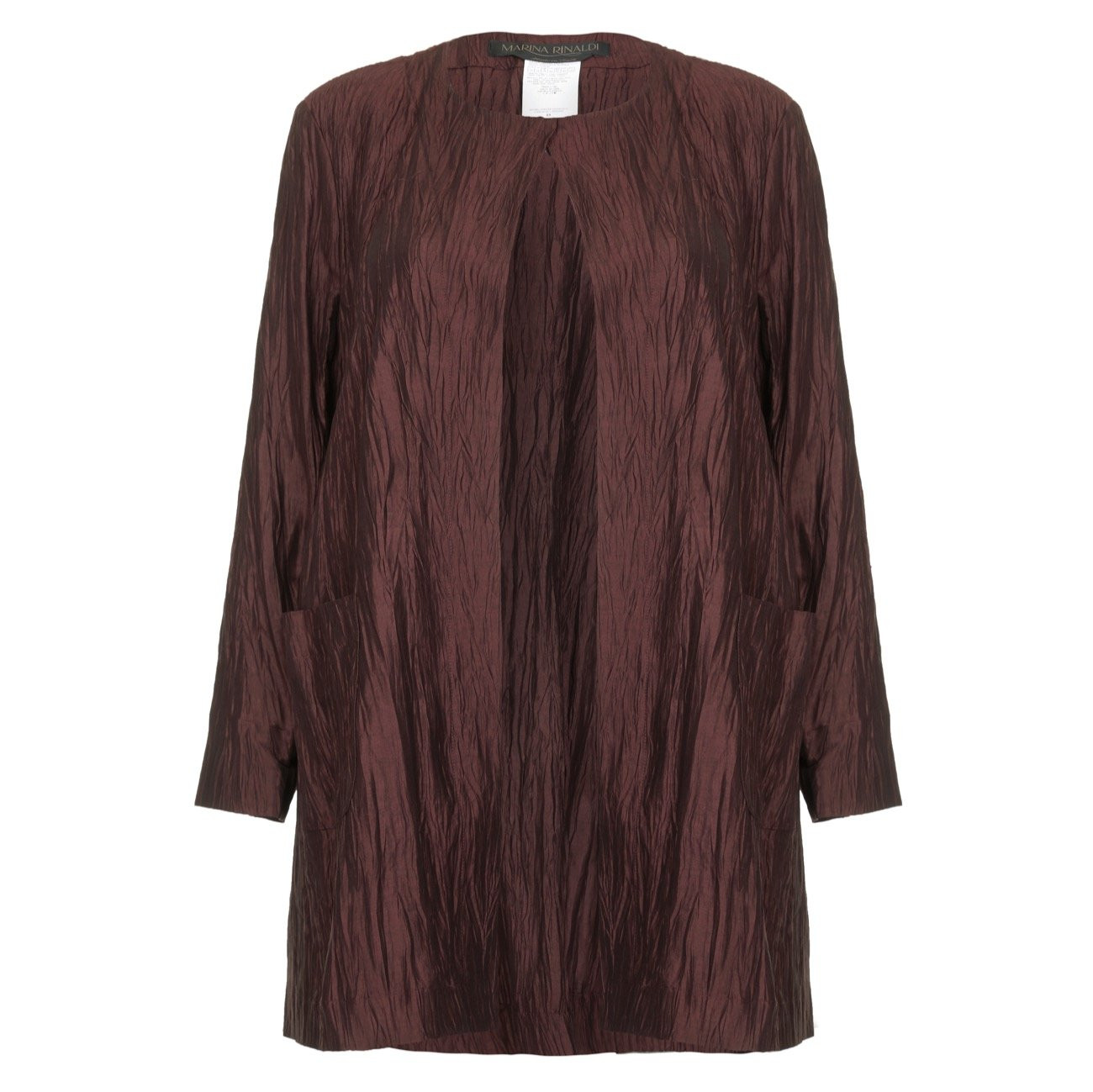 One of my favourite London restaurants is Fisher's on Marylebone High St. We often go out with friends on a Saturday night. At the moment I've got my eye on the MR crushed silk jacket and trousers.We have some fabulous accessories this season. I can't wait to get my hands on a statement necklace from Italian designer Vanity Her to really set my outfit off.
AB: It's notoriously difficult for plus women to find fabulous cocktail wear. How do you dress for a special occasion?
LW: Personally, I don't do girly when it comes to evening wear. I always wear some version of a tux trouser suit. There are several reasons for this. I prefer not to wear shapewear. I have difficult feet so I find it hard to find shoes that work with a dress. I want to be comfortable and enjoy myself.
I like the androgynous look. Marianne Faithfull, Bianca Jagger and Marie Helvin all helped to make the trouser suit iconic. When I was younger I had the most exquisite YSL trouser suit. I don't mind low necklines or dangly earrings as my nod to sexy but I won't do dresses. I'm all about working what works and covering up what doesn't. I have a great cleavage and a waist and I'm happy to flaunt them but I'll never give you my legs!
Although, dresses don't work for me personally I adore our range of Mashiah dresses. We're really proud to stock this incredible fashion forward designer in plus-sizes.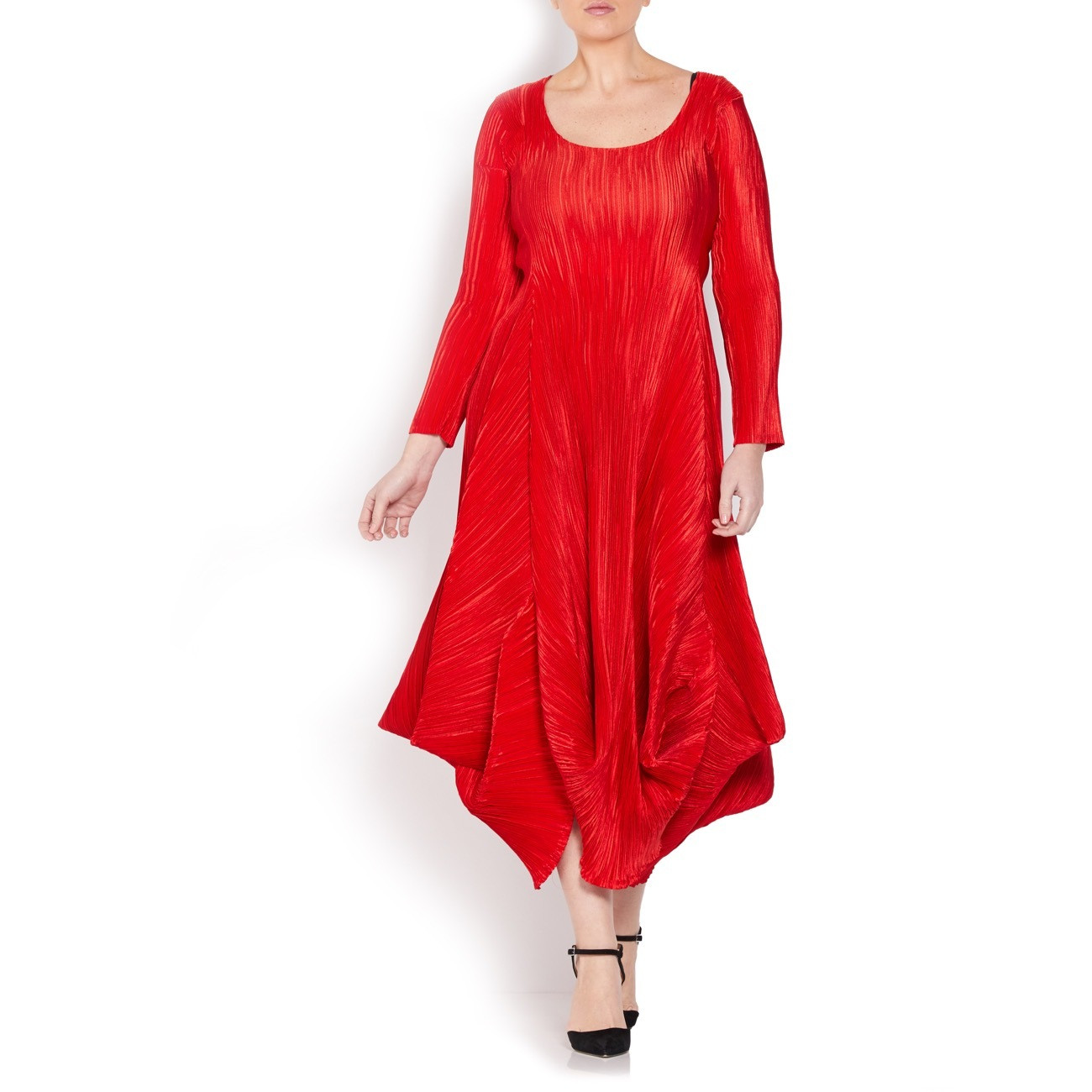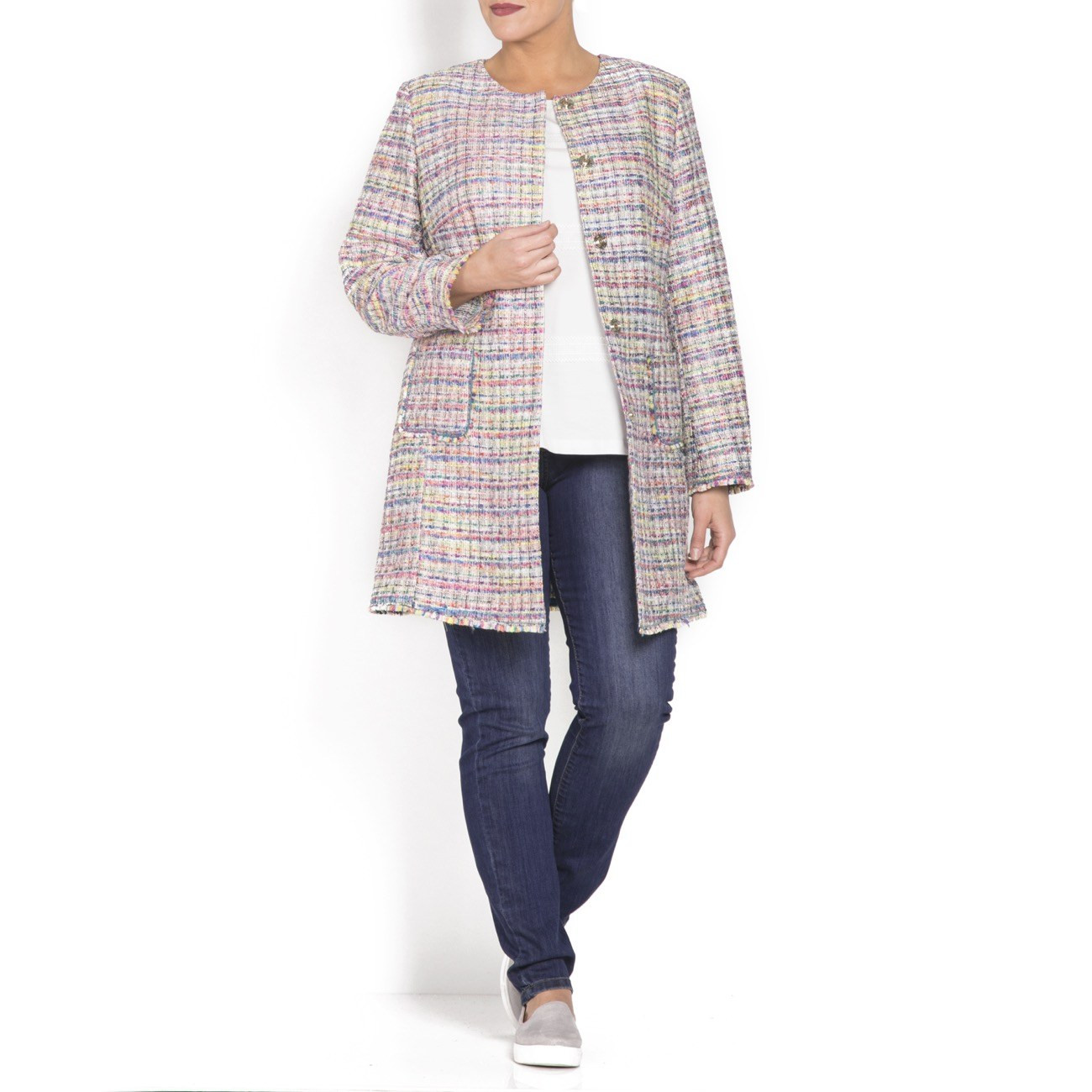 AB:
You recently went to New York to celebrate your 60th. Tell us about your trip. What did you pack? Are there any cosmetics you swear by?
LW:
I'm never really off-duty from my role as Creative Director at Beige. New York was a great opportunity to do a reccy on all the famous dept stores. Naturally, I was curious to see how New York does plus size. I'm happy to report I visited Bergdorf Goodman, Bloomingdales, Saks Fifth Ave, Macys and Barney's. We also visited Marina Rinaldi's NYC store and Lafayette 148. Of course, it wasn't all work. I deviated to the handbag department as much as possible and adopted a Chloe. Every woman should own at least one statement handbag.
I adore theatre and we packed in quite a few Broadway shows. If I'm going the theatre I go for a smart casual look. A longline jacket with a pair of narrow-leg trousers is always elegant.
AB: Thank you Leanda. One last question, which key pieces should we be snapping up for SS18?
LW: For effortless casual chic I love this ensemble by Persona.
Ignore anyone who tells you plus size women can't wear horizontal stripes. It's all about the cut of the garment and size of the stripe. This shirt by Elena Miro combines vertical and horizontal stripes to create a figure flattering trompe l'oeil.
This ribbon knit sweater from the Beige Label is fabulous with a pair of linen trousers for a fresh and easy spring look. But of course, I do the buying so I adore all our pieces.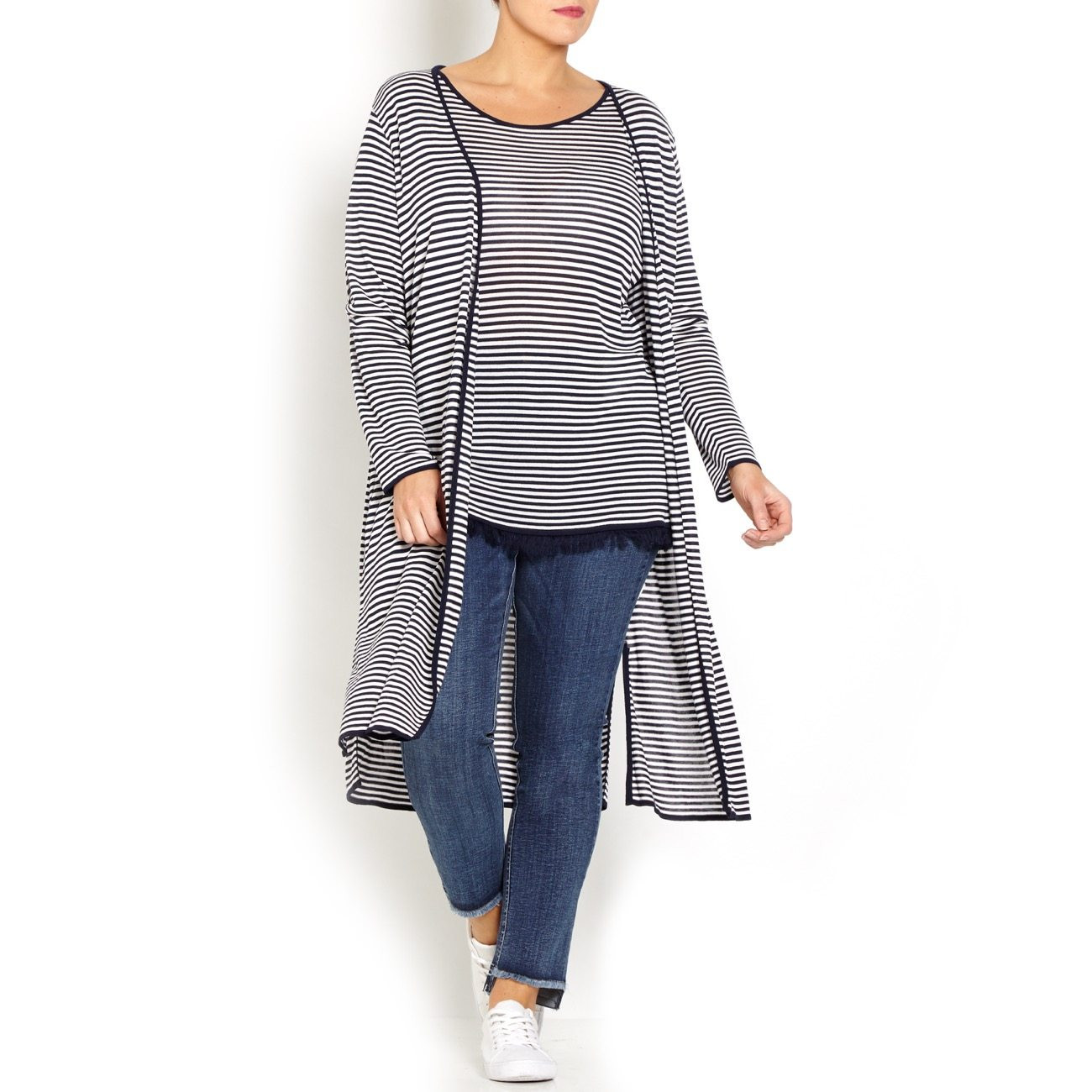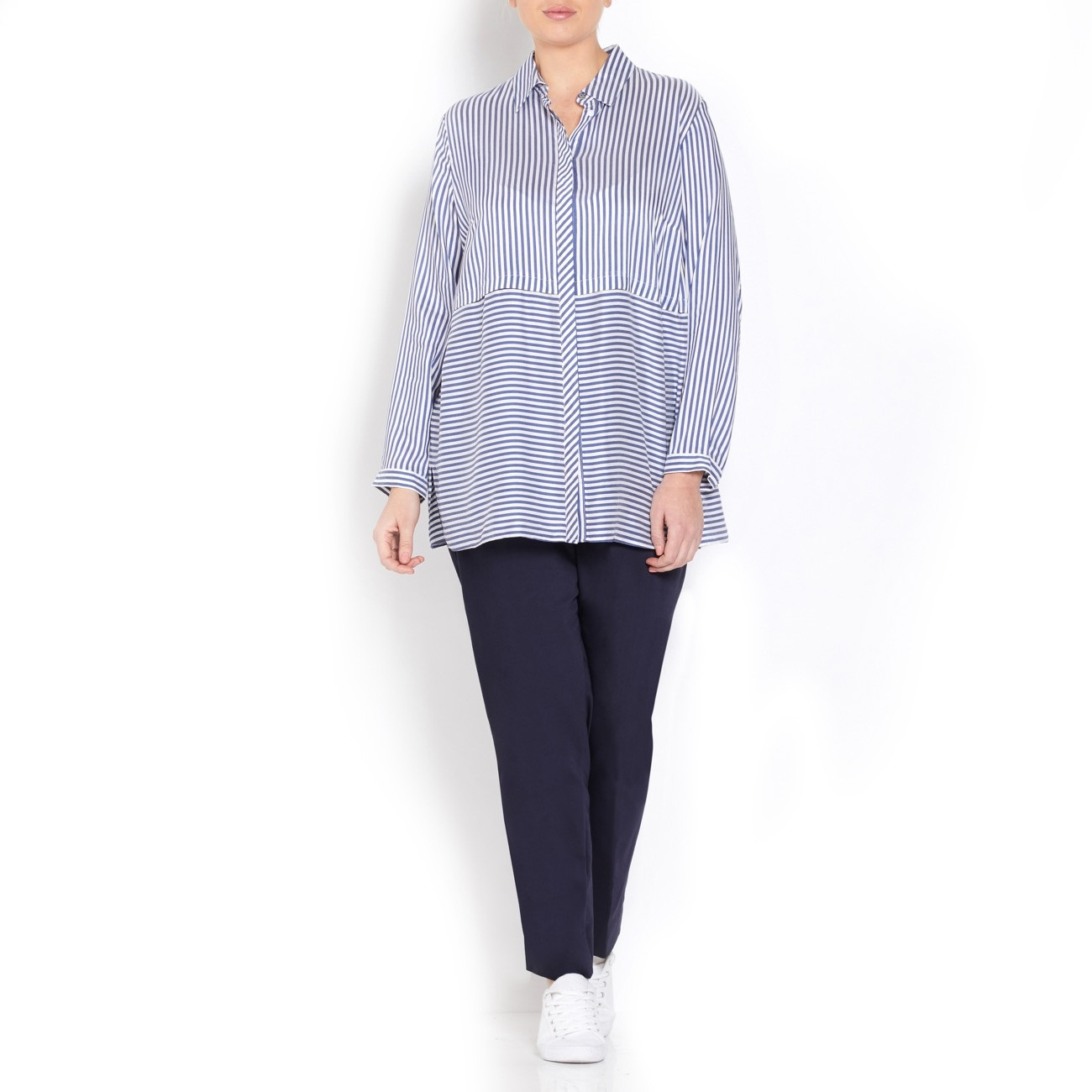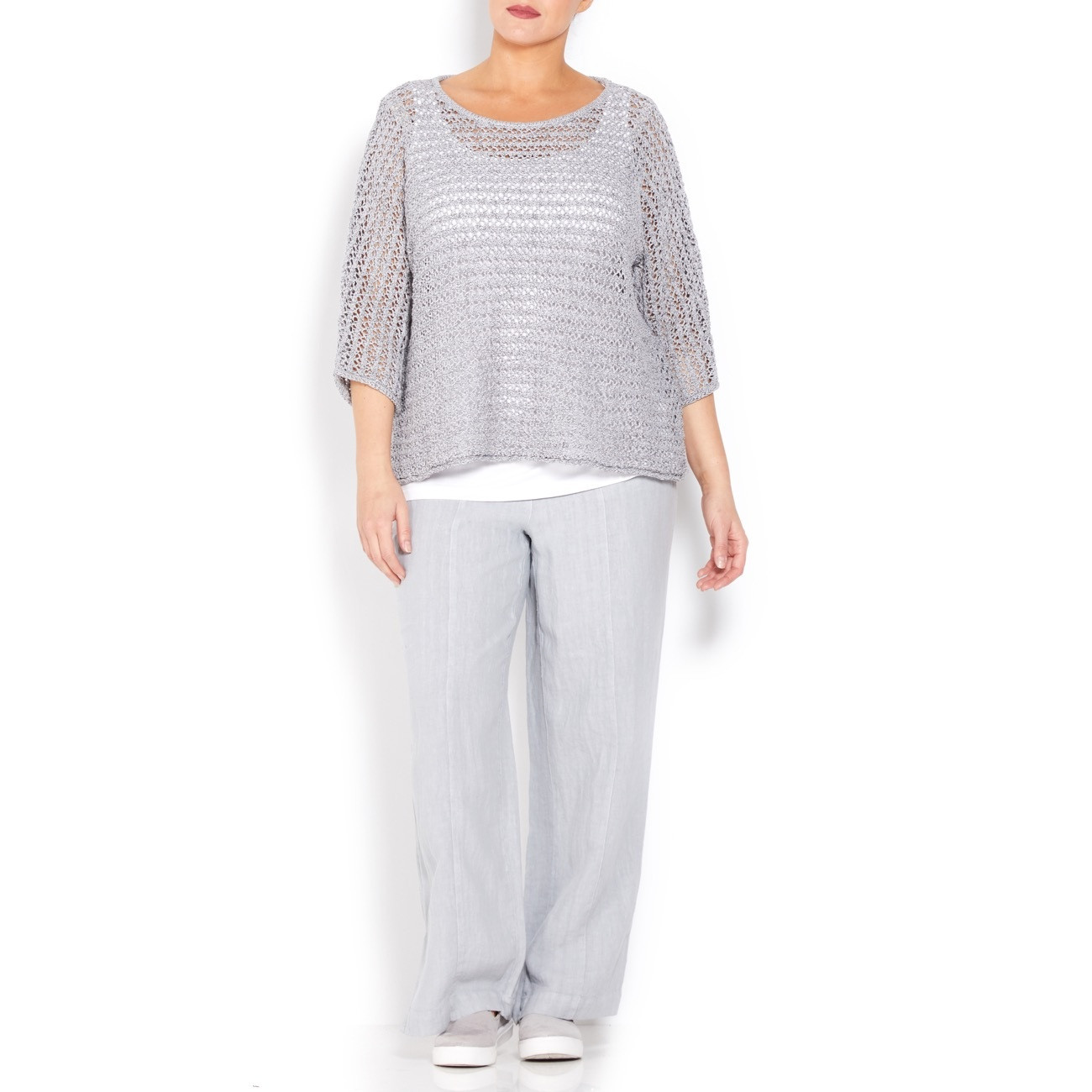 Shop amazing fashion from Beige
If you'd like to see more of Beige Plus' fashion ranges for women of any shape, visit one of our three London based stores.
For more information please call us on 020 7831 5777 or contact us online and a member of our team will get back to you as soon as possible.
Shop online at Beige Plus for 2018's latest designer plus size clothing.