Our new store has been inspired by a recent visit to Orlando when visiting family. It rained a fair bit and on rainy days you go shopping!
After several rainy days, you could say that I had become somewhat of an expert in shopping malls. In particular the Designer Outlets. As I wandered around and watched I noted people were buying loads of stuff. This wasn't about low budget shopping this was about buying in bulk. Husbands and boyfriends in tow, carrying several large carrier bags and wow the buzz, the energy of these places was infectious. Whole families were enjoying their day out.What really struck me was that there wasn't anywhere for me to buy clothes in my size. I bought some fabulous clothes for my brother who is 6' 5" and yes has the family trait of being overweight. There was no problem buying plus size clothes for men.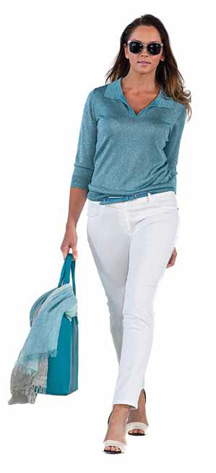 I found the Max Mara shop and dashed in hoping that they would have some Marina Rinaldi pieces. No they did not. The lovely sales lady was a plus size woman, however she was wearing a Max Mara skirt that she had inserted a large strip of fabric down the side so it would fit her. How crazy is that?There is something wonderful about finding a bargain, you can buy a sweater for £95 pounds, but it's really a hit of adrenalin if that sweater used to be £300. The outlet shops are very addictive with fabulous designer brands like Prada, Michael Kors and Max Mara but nothing for us curvy girls, not a plus size garment anywhere. Sooo sad. Here I was happy to spend some money but unable to, unless it was a handbag and or some make up. Familiar story?Back home, I started to do some research on the whole phenomena of outlets. Bicester Village is amazing, however there isn't any plus size clothing available in Bicester Village. Again an amazing selection of Designer brands including Max Mara but not a single piece in a plus size. Net-a-Porter has an online outlet nothing plus about that either. There are not any Designer Plus size outlets.We all love a bargain and it's a really good idea to mix your wardrobe with classic investments and some mad crazy pieces, both might not be this seasons range but both have a very valid place in your wardrobe if the price is good.
It's what we all want, Right!
If you can dream it, you can do it – so we have launched our Plus Size Designer Outlet. Beautiful plus size designer clothes at amazing prices. Our Outlet is about designer plus size clothing at discounted prices. Many items 70% off. All the year round.
So far as we can tell it's the only Outlet of its kind anywhere in the UK and certainly not in Orlando! So roll on, the world now has a London outlet store for Marina Rinaldi, Elena Miro, Verpass, Per te by Krizia and loads more.
When you are in town you must visit our Outlet at 33 Southampton Row London WC1. Very near to Holborn Station so easy to get too. Open Saturdays as well!
PS don't feel too bad for me, I got my rush in Prada.
Visit us online to browse designer plus size clothing for women.