It's getting four minutes lighter every morning, I love the longer days, and it's great to have daylight when you get up. More daylight and warmer temperatures (yes really) now it's time to wear knitwear.
This is the perfect solution to ease you through early spring and keep you warm when the air still has a chill. I love the stretch comfort of knitwear – knitwear is a curvy girl's friend. I always make sure that we select a varied collection of knitwear for Beigeplus.
Stunning styles with knitwear
You can layer up in style, from light cotton that takes summer dresses from day to night to sumptuous cashmeres, cosy enough to keep lingering winter chills at bay. Here are some of our favourite knitwear pieces for spring.
Bright Colours
Marina Rinaldi's spring knits pack a punch, with colourful intarsias and playful colours. This knitted tunic is very beautiful, I just wish you could touch it, it's so soft, it's made of 70% silk combined with 30% cotton.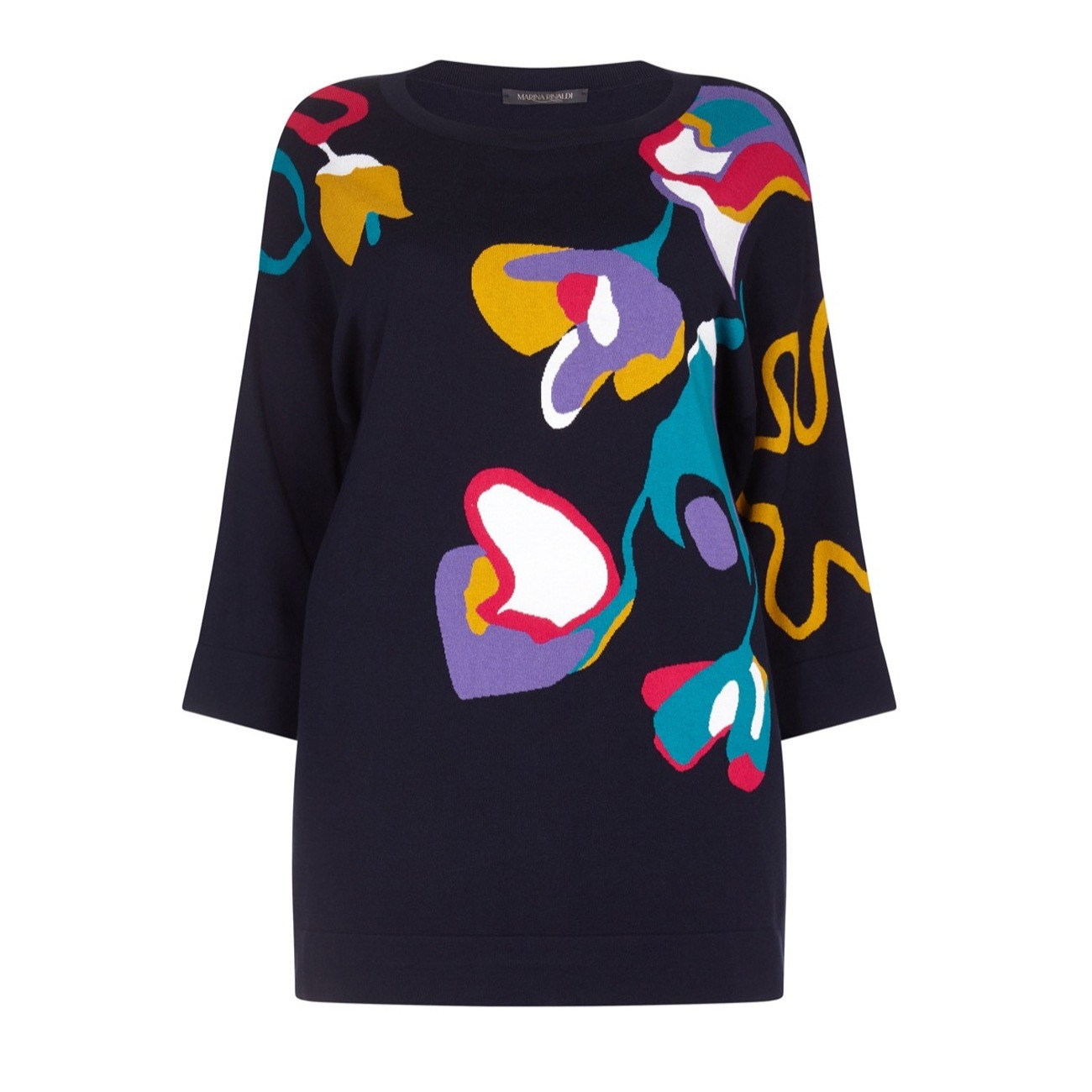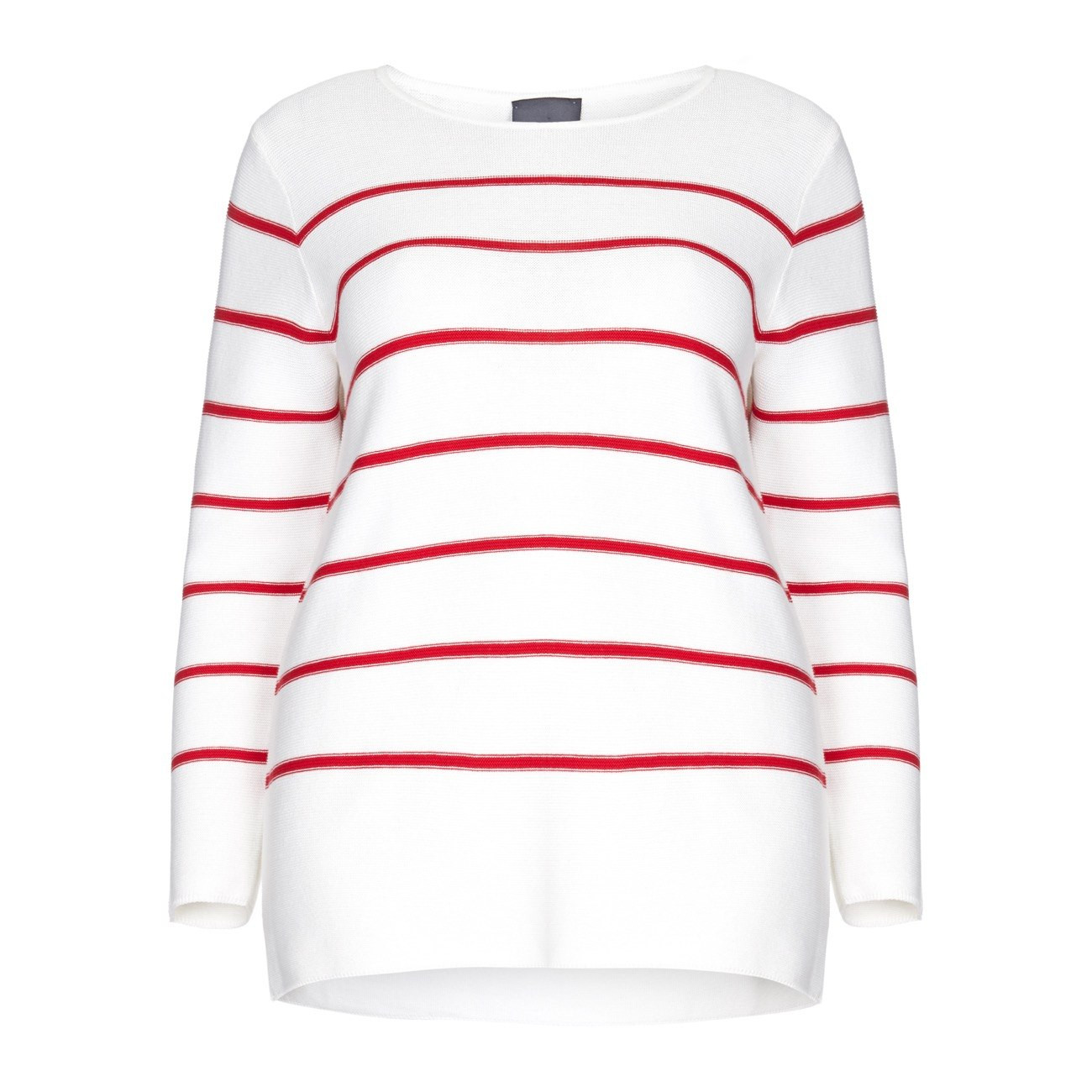 Stripes
Stripey knits are a mainstay for spring. My favourite is this knitted tunic from Persona by Marina Rinaldi. The longer length is flattering and I really love the fact that its 100% pure cotton.
Polka Dots
Nothing says spring better than playful navy and white spots. This cotton mix twin set, combined with a sharp navy trouser will get you through 9 to 5. Later in the season, you may wish to wear the pieces separately, however we recommend that you should always have both pieces of the set cleaned together at the same time.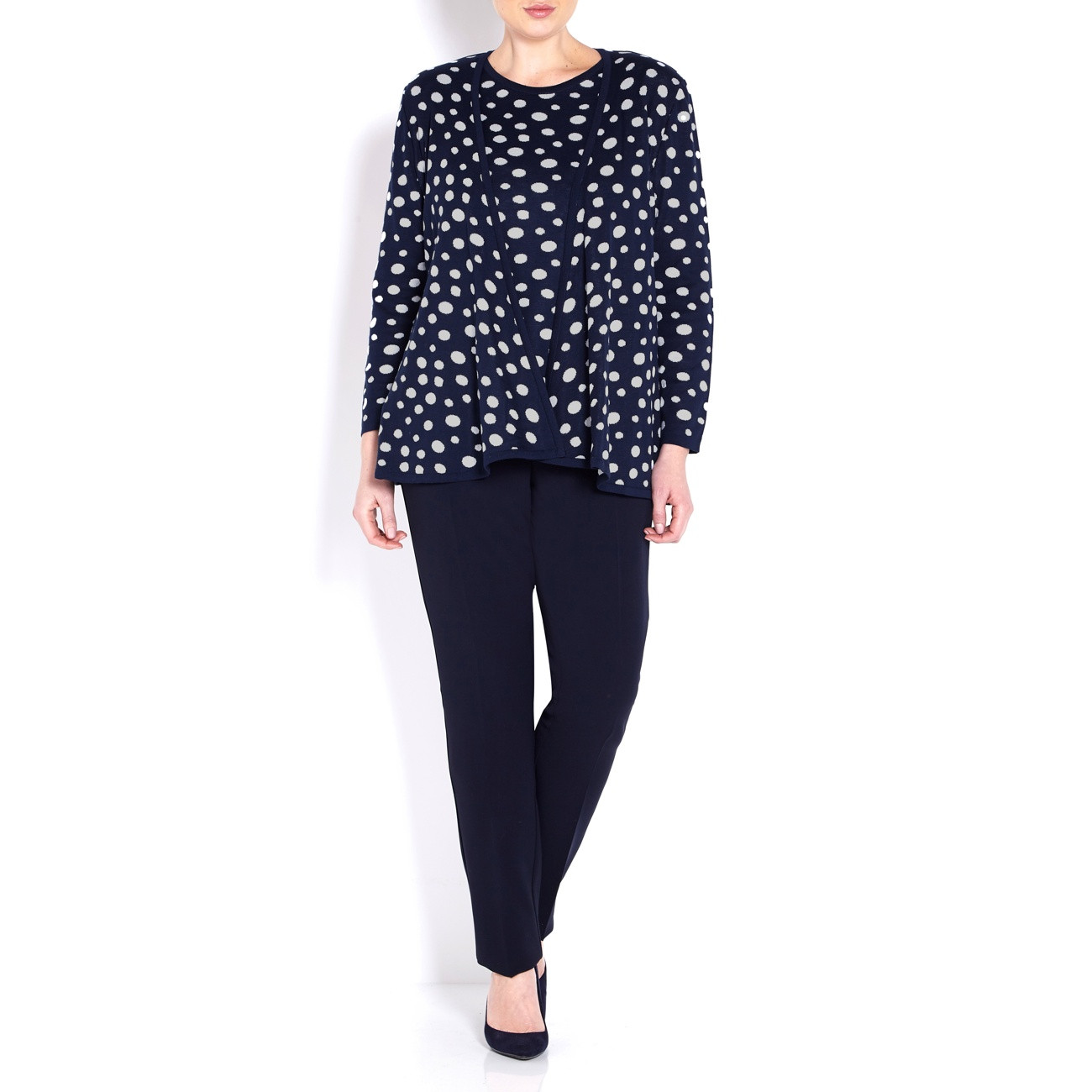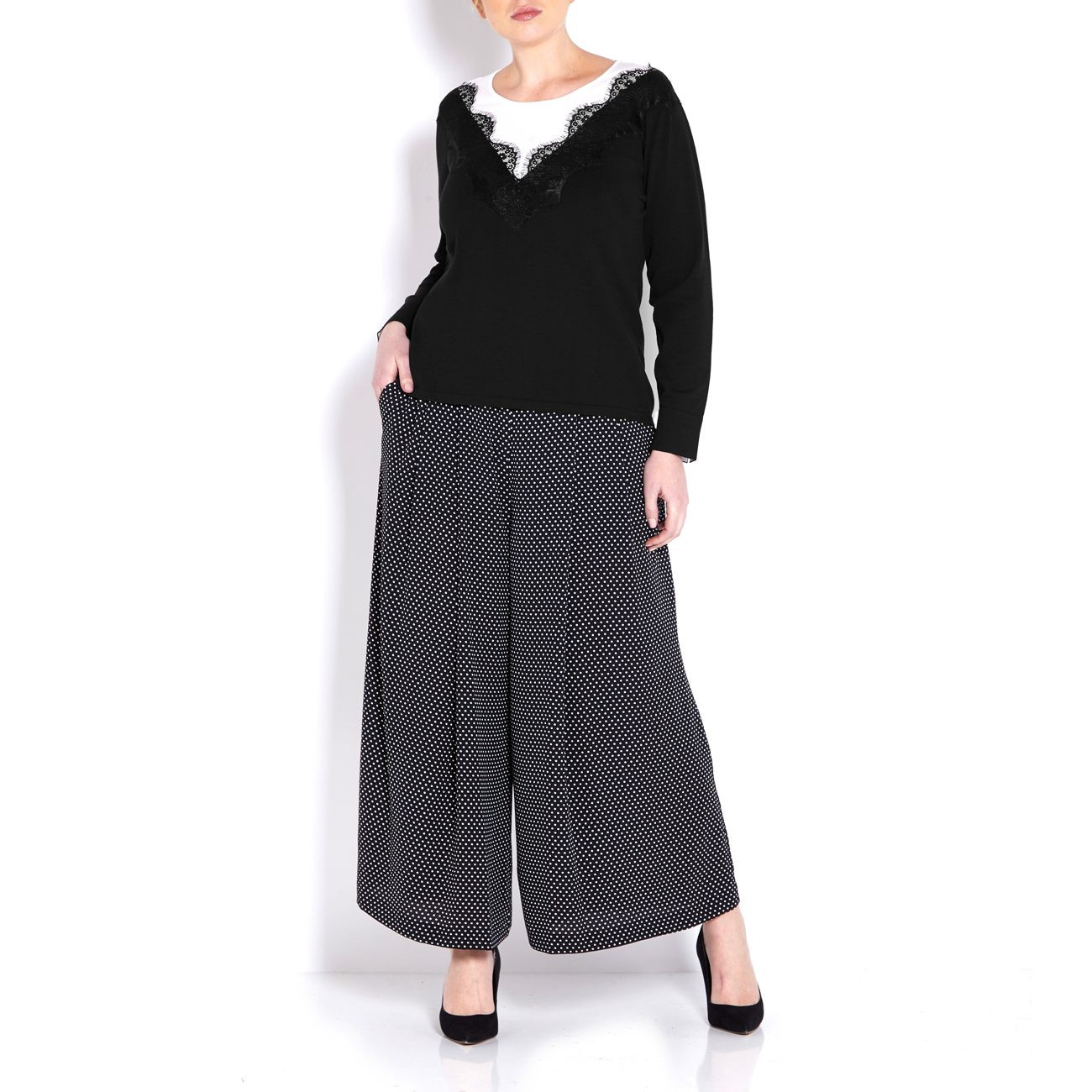 Monochrome
At this time of year, a pretty black and white sweater is a useful addition to your wardrobe. The sweater has been styled here with a fluid pair of culottes, both pieces are by Elena Miro. The slim fit shape of this sweater balances the fullness of the culottes creating a very feminine silhouette.
Sparkles
When it's still cold what you need is some additional glamour to give you a lift.
I'm loving this twinset from Marina Rinaldi, I can wear it with any smart black trouser and feel comfortable and stylish …just looking for a dinner date so I can try it out.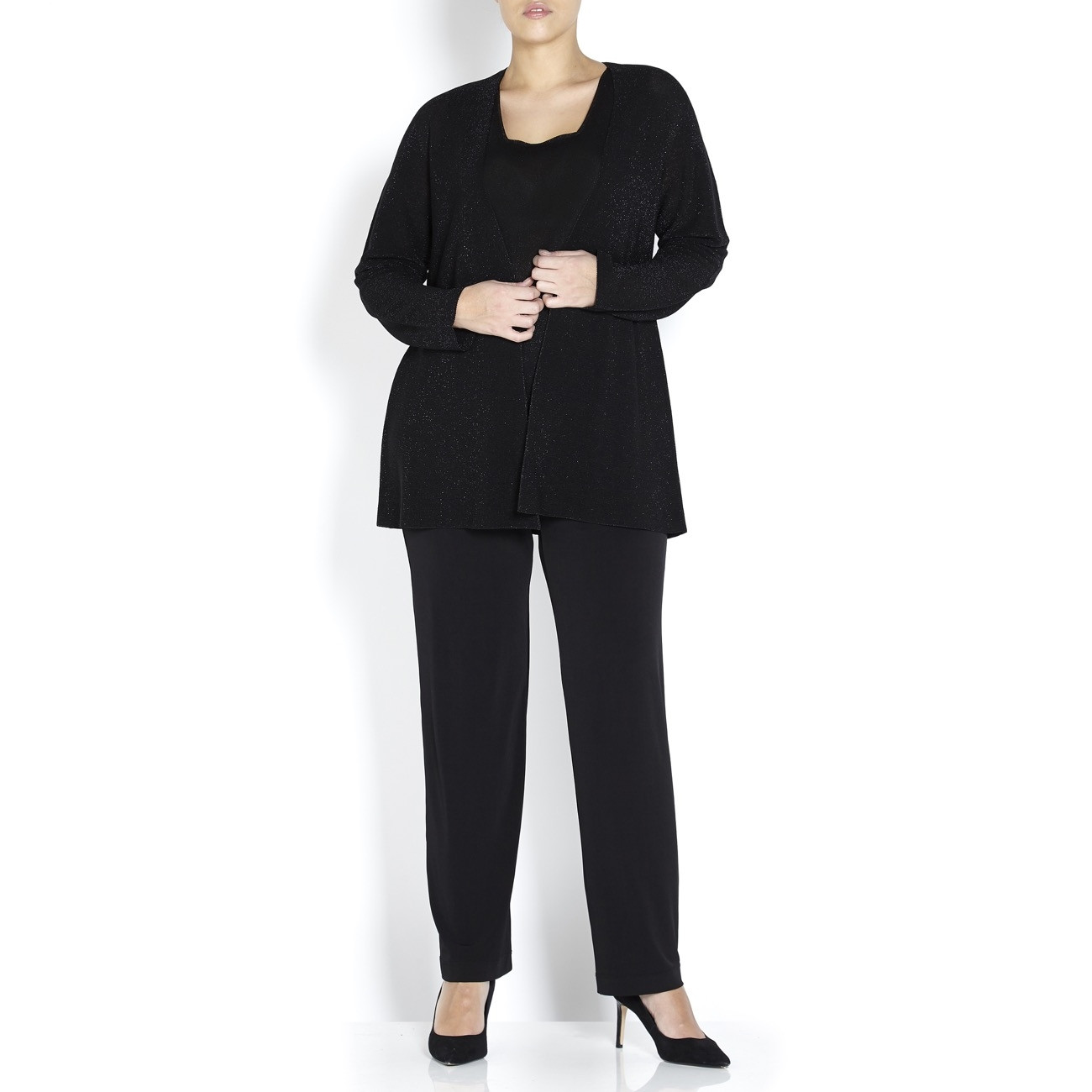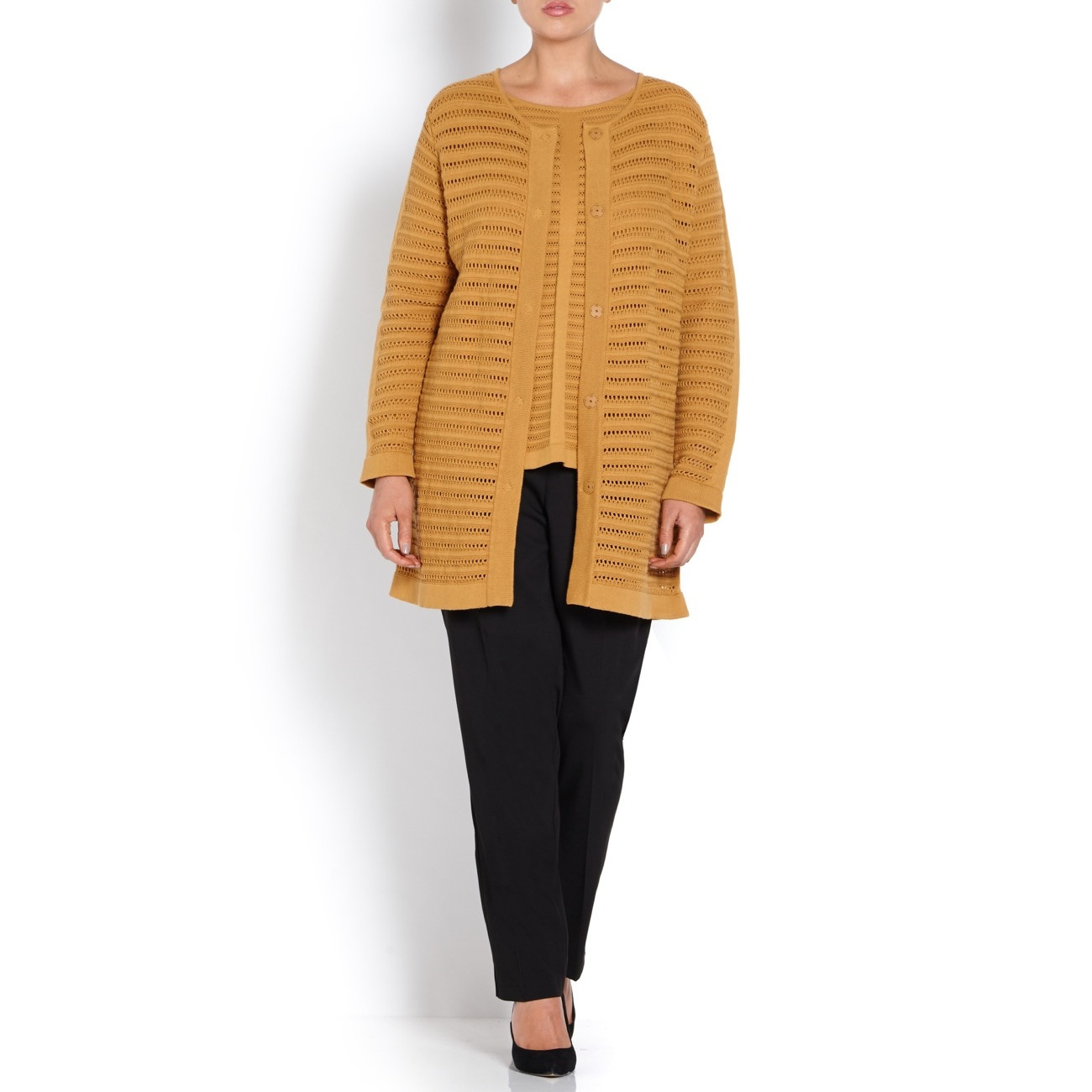 Yellow
Time to inject some vitamin C into your wardrobe, yellow is a key colour for Spring/Summer '18. I'm suggesting that you try this next piece. This long, openwork, ladder stich cardigan from Marina Rinaldi is just beautiful, we have styled it with its coordinating sweater and sharp black trousers. Both pieces are made from 100% pure cotton so perfect, if you have wool allergies.
Cashmere
Layer up with our sumptuously soft array of classic cashmere jumpers. Co-ordinate an iconic classic round neck cashmere sweater with your favourite pair of jeans – for a look that's the epitome of casual chic. My Beigeplus top tip is buy it bigger than your usual size. Alternatively wear it with navy trousers and a rope of pearls. By the way, pale blue cashmere looks good with black too.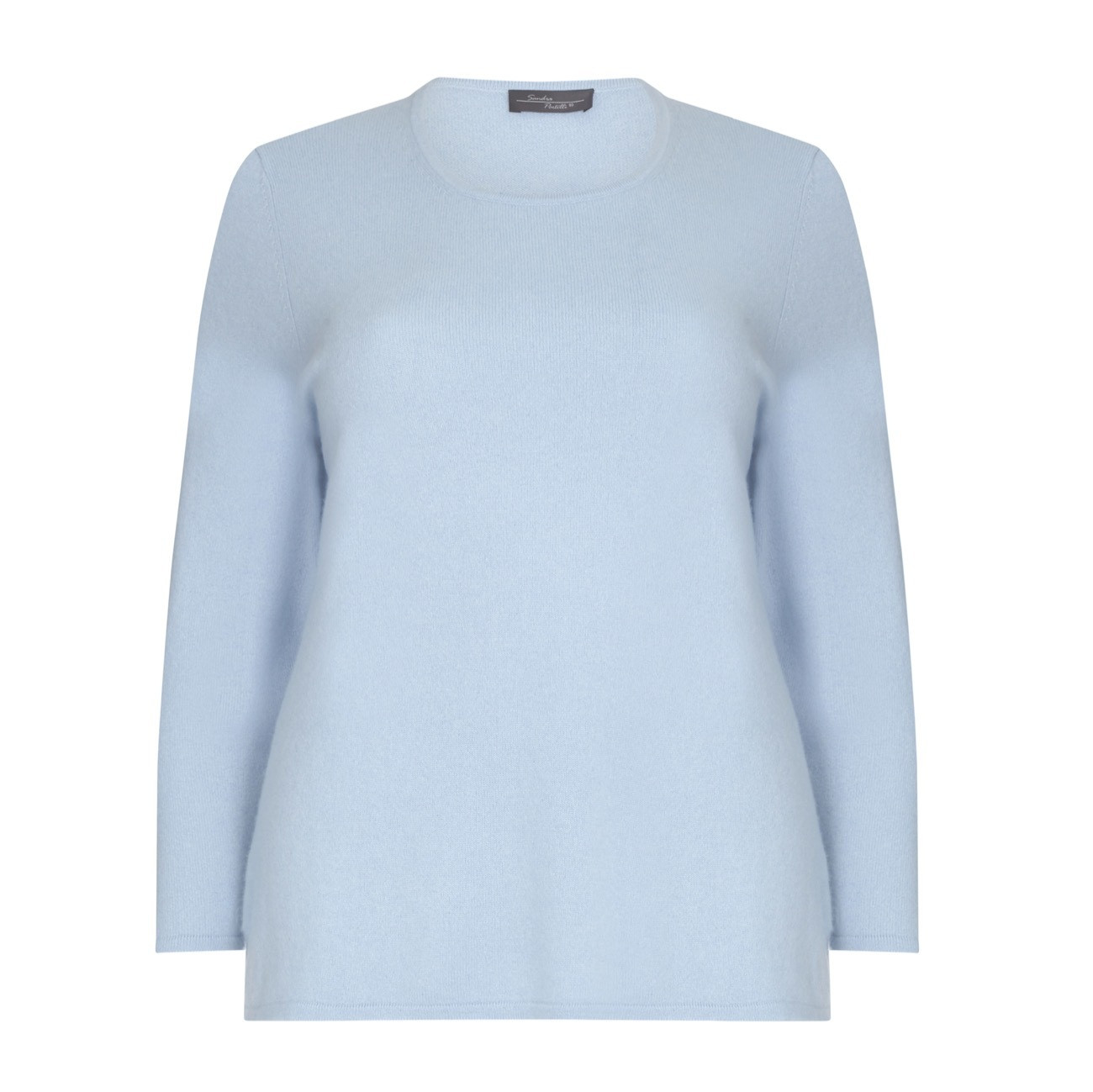 Knitwear is the perfect solution to many of your wardrobe issues. It's a stretchy fabric and so accommodates those days when you feel a "bit bigger" than you did the day before.
More amazing plus size fashion from Beigeplus
We are adding new pieces to our site daily so it's always worth another visit if you cannot find what you are looking for. Alternatively, call us on 020 7831 5777 we would be pleased to help you.
Visit one of our three stores in London to update your wardrobe for spring summer 18.
Beigeplus offers an amazing selection of designer collections in plus sizes.
Our in-store stylists can assist you in finding the perfect pieces to complement your shape and style.
If you need styling advice or assistance in finding the perfect piece call 020 7831 5777. If you have an inquiry about an order you have already placed please call on 020 8455 0005. Our web customer service desk is open Monday to Friday 9am to 6pm GMT.