As the mother of the bride, or groom, you have a crucial role to play in their special day, so it is important to look the part. BeigePlus has a collection of dresses and outfits to flatter your figure and create an elegant look, perfect for a wedding.
BeigePlus have a wealth of experience when it comes to dressing curvy and plus sized women. The in-store stylists are dedicated to making you feel confident and ensuring you look amazing for the special day.
Indulge in Luxury Lace
Lace is a timeless fabric, offering elegance and femininity. Ann Balon is world renowned for creating delicate detailed outfits from the finest Italian lace. Her classic pieces are designed to turn heads and make an impression.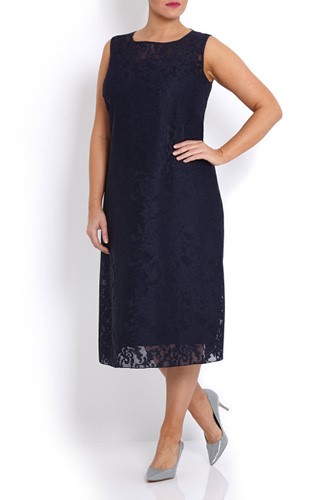 This Marina Rinaldi dress in a flattering shade of navy features a contemporary A-line shape and has the bonus of optional sleeves. Pair with a classic mother-of-the-bride hat or a delicate feathered fascinator to complete the look.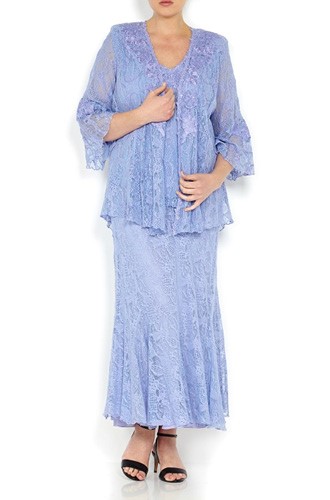 The lilac shade adds a pop of summer colour to a classic look. The three-piece element to this outfit means that you can customise your style by removing the jacket to reveal a cool and comfortable sleeveless lacey top. The ankle-length skirt flows and drapes elegantly to create a feminine edge, and lets you show off your new heels. Pair with some silver jewellery for the ultimate wedding glamour.
Feminine and Floral
Nothing says Summer like a bold floral print and soft flowing fabrics. The stylists at BeigePlus have selected some perfect wedding pieces carefully designed to flatter your figure and make a statement. These dresses are timeless yet contemporary, carrying you effortlessly from the ceremony to the reception.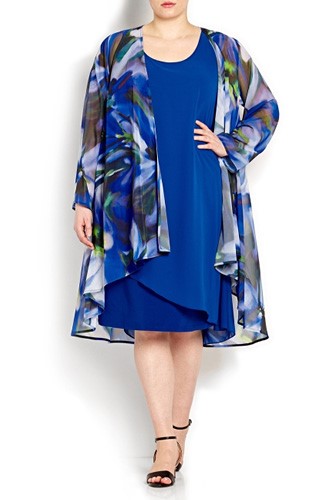 The royal blue chiffon dress from Yoek comes paired with a chiffon duster. The outfit has a delicate waterfall hem, hanging elegantly over the knee. The bright and bold colours within the duster open the opportunity to play around with bright jewellery, hats and accessories for a fun and feminine flair.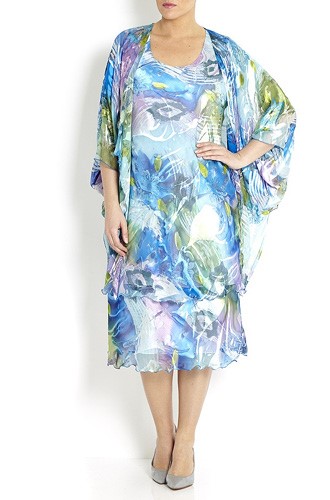 The silk devoré dress and cape from Kirsten Krog are designed to drape around your figure, creating a soft silhouette. With a flowing cape, and a scooped neckline, you can feel comfortable and confident throughout the day and into the night. Pair with some nude heels and a matching hat for a stylish wedding outfit. Take a look at our stunning
Kirsten Krog mother of the bride range
.
Find the perfect mother of the bride dress at BeigePlus
Beige provide you with a fresh and contemporary selection every time you visit as we are always updating our collection of designer plus size dresses. With three London stores bursting with gorgeous clothes, you can discover beautiful outfits for your next wedding or special occasion. The expert stylists are always on hand to offer advice and give suggestions. Fall in love with Beige Plus size clothing for women.
If you're struggling with what types of clothing suit your shape, take a look at our guide to flattering styles for different body shapes.
For any more information regarding BeigePlus' clothing collections please do not hesitate to contact the BeigePlus team. You can call directly on 020 8455 0005, or get in touch online.