Elena Grunert at Beige London

---
---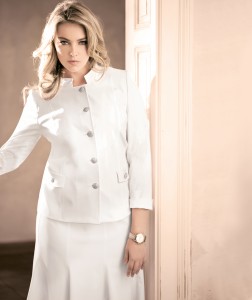 Elena Grunert was a plus size clothing powerhouse whose impeccable tailoring empowered women from all over the world. Sadly, suffering from the global recession, and finally closing in 2014, this established German luxury label fused elegant designs, top end materials and innovative production techniques to create timeless occasion wear and suiting up to a size 30. Elena Grunert was noted for their Mother of the Bride outfit, cruise wear, outfits for formal engagements and a polished season to season business look.
Elena Grunert Designer Collections
In 1991, talented designer Gurdrun Grunert collaborated with business woman Ulrike Ottens to bring exquisite clothing to a wider range of women through Elena Grunert. The label's strong ethos has built its reputation within the industry and earned it a loyal international following.
Special occasions require high impact clothes and Elena Grunert expertly balanced classic femininity with a desirable touch of drama. Curve-contouring dresses and skirts provide glamour, whilst sleek, well structure suiting is designed to convey professionalism and confidence.
"Our strength was in our fit and it works well for individual body types. This is my secret to success" Gudren Grunert.
Elena Grunert met very specific clothing needs and was the creme de la creme choice for those that appreciated the art of event dressing. Selecting from decadent silks, fine virgin and high quality viscose, the label used materials best suited to the comfort of the wearer.
---
Elena Grunert Designer Plus Size Clothes
Jewel colours were often a feature each season as well as carefully constructed bold prints. However the main staple to Elena Grunert was its exceptional fit. It was rare to find expertly crafted plus size jackets, yet Elena Grunert produced them consistently. the label is equally celebrated for its functional dresses and expansive range of soft tactile knitwear. Super separates predominately made a feature, allowing a woman to transform her wardrobe every season. At Beige, Elena Grunert's beautifully tailored creations guaranteed a stylish presence. The label was beloved by Beige customers for special events as well as professional occasions.
Elena Grunert at Beige Plus London. Plus size from size 16 to plus size 30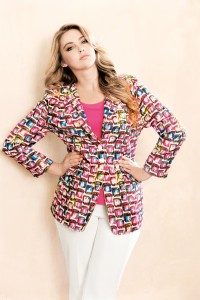 ---