Faber at BeigePlus London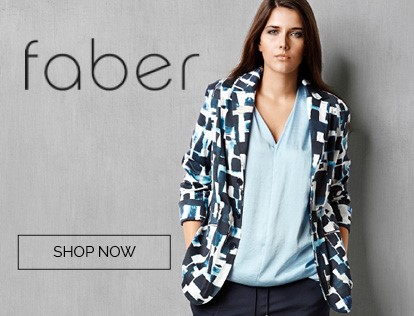 FABER AT BEIGEPLUS LONDON
This first class German knitwear specialist is known for its dynamic fusion of excellent fabrics, colour and print. Beige adores Faber's diverse ranges which are dominated by fine wool and cashmere blend knits and head turning luxe cotton tops up to a size 24.
Shop Now
Faber Designer Collections
When Ann Balon took a trip to the Amalfi coast in the 80s, the talented jewellery-maker was captivated by not only the spectacular scenery and good food, but also by the region's precious laces and intricate dressmaking techniques. She decided to give up her career and risk everything to create her own fashion label, setting up a studio in the hills above Positano. Balon's creations are now shipped to select boutiques around the world from her picturesque design "labarotorio."
Since 1947, the company has been a family run brand that prides itself on skilled workmanship and its willingness to embrace industry innovations. As a manufacturing brand that relies on the quality of its craft, the label supplies its stock to only a select number of specialists across Europe. There are a select few within Russia, Australia and Canada. BeigePlus is proud to be one of the few UK plus size stockists of the luxury brand.
"Uncompromising quality standards in all areas is not just Faber's vision, but everyday practice among all employees." Faber produces modern staples that allow women to radiate style whilst maintaining active lifestyles. Faber clothes demand to be noticed and are of a quality that stands up to scrutiny. The current trends are realised and translated into fashionable collections that impress with a clear, distinctive design.
Faber Designer Plus Size Clothes at BeigePlus
The label produces around 80 percent of it's knitwear at its factory onsite to ensure its key principle 'quality over quantity' is met. With special fabric content mixes and regular collaborations between the design and engineering teams, Faber can produce exclusive yarn effects that are both beautiful and hard wearing.
Faber's trademark is an unmistakable union of luxury and femininity. Fearless animal prints and intarsia knits make regular appearances along with many artistic prints for a stylish edge to any look. Faber focus on the taste and style of European women along with trends of the season to create their own distinctive look.
Faber's luxury knitwear has always been a favourite amongst many BeigePlus clientele. available in store as well as online, BeigePlus are proud to include the brand among their collections.