This month actress Joanna Scanlan won the Best Actress award at the British Independent Film Awards. The actress who has starred in The Thick of It, The Larkins and Girl with a Pearl Earring was awarded the prestigious accolade for portraying a widow who uncovers her deceased husband's secret double life in After Love directed by Alem Khan.
For the awards, Joanna was styled by Beige director Leanda Walters. Joanna opted for an opulent two-piece damask suit by Marina Rinaldi teamed with a sheer shimmering roll neck by the same designer.
A long-standing Beige client, we are proud to have Joanna as an ambassador for our brand. Joanna believes that plus size women should have the same access to beautiful clothes as their peers. Many Beige clients are extremely successful and often find themselves in the spotlight. Beige's aim is to fill the gap in the market and ensure that women of all sizes are able to attend any event with confidence.
Beige director Leanda Walters has been creating red carpet looks for Joanna for many years and they were photographed together at the Bridget Jones premiere where Joanna wore a stunning Mashiah jacket.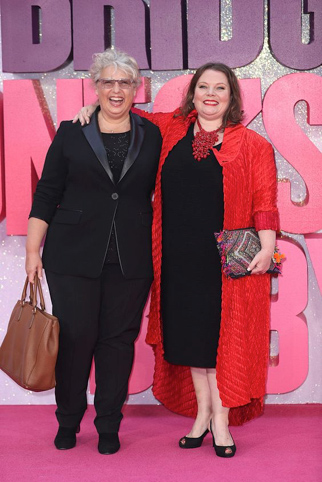 Beige is here to cater for women who are at the top of their game. We believe that every successful plus size woman has a right to a fabulous wardrobe that is the envy of all her peers. Leanda is personally involved in every stage of the buying journey and ensures that the Beige client has access to all of the most beautiful contemporary designer fashion. We love seeing our clients step into the spotlight looking fabulous!
We extended a warm congratulations to Joanna Scanlan for her phenomenal win.
Recreate Joanna's Red Carpet Style
If you love Joanna's style and would like to order any of the looks featured in our article visit our online shop today or for a personalised styling experience book a consultation at our boutique on New Cavendish Street in the heart of London's Marylebone.