Twice a year my world goes completely mad. The seasons all seem to merge together. It is still winter isn't it??
However our lovely new spring 2014 stock is pouring into the Beige London stores and my garden has 3 brave daffodils already in flower. It's all about forward planning – in fact we are now buying for next winter. More about that another time!
Meanwhile if you are a passionate fashionista then it's definitely spring right now! If you feel that it's still winter then do a bit of forward planning so that you have it all sorted for when it truly warms up. The prospect of spring is a happy one…let me tell you all about it.
Of course there are florals… we Brits are crazy about our gardens right? This season, the combination of a floral print on a tailored jacket is intoxicating. Try Marina Rinaldi's cotton floral jacket – which is already selling fast and I'm proud to say featured in the March edition of Woman and Home.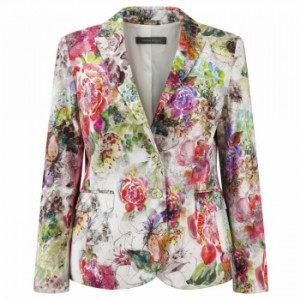 Or, this beautiful, long line jacket in a floral border print, by Rof Amo, Simply stunning.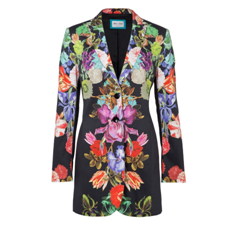 Pastels are important this season and we are introducing Basler to our BeigePlus portfolio. Look out for their pale blue triacetate blazer which will be arriving shortly. Then there's the palest whisper of pink, soft blush colours, invest in a blazer like this one by Persona.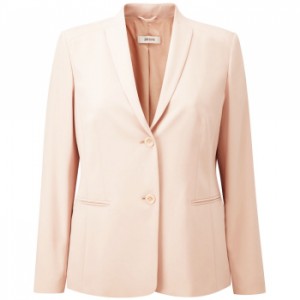 Mix pink with black lace – Marina Rinaldi's dress from the Elegante collection combines several of the season's trends in one piece; black lace over a nude pink silk and just a touch vintage. Available in sizes 16-24, it's perfect for curvy girls.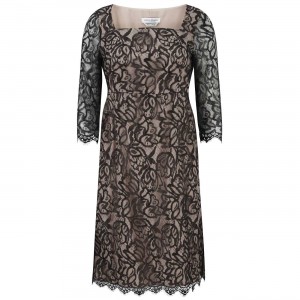 Combine pink with black and white; Persona has done it brilliantly…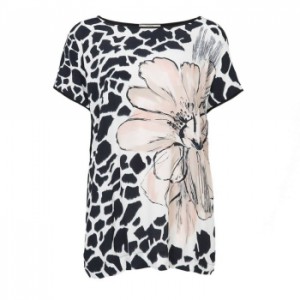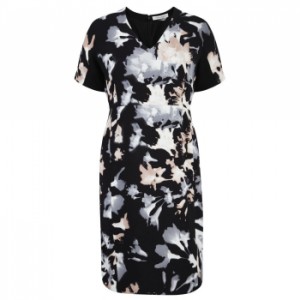 Make a statement and get noticed with Elena Grunert's stunning graphic print up to size 30…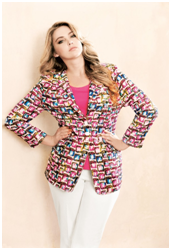 Or a luscious pink leather by Verpass…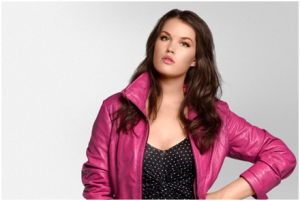 The German luxury designer Wille has made an amazing come back this season. Just look at this dress – fabulous! We love it, and layered with the cardigan it's a real stand out number.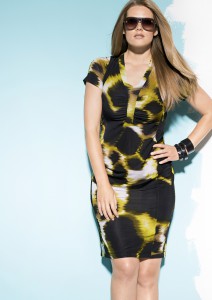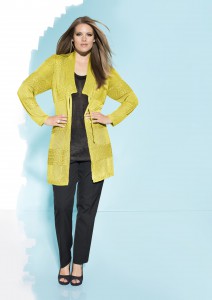 All the Trends for Spring/Summer 2014
You can find a plethora of designs at any of the BeigePlus stores or at our online shop – we only stock clothes that we believe will make you look and feel beautiful!
Start thinking about your wish list and planning your Spring 2014 wardrobe now.
In our New Arrivals section you'll find all the latest trends including soft romantic pastels, black and white with hints of colour, bold floral prints, flattering jackets and much more – all from renowned fashion designers such as Elena Miro, Anna Scholz, Marina Rinaldi, Elena Grunert and many more. The Beige shops are the best for luxury designer clothes in plus sizes. London is fabulous in the spring and each BeigePlus branch is near some great eateries and interesting London attractions. Come and visit us and make a day of it. We look forward to meeting you.
Find a BeigePlus Branch Near You or Shop Online!
If you do end up with a new garment or two, please do let us know your feedback – we love to hear it!
Email Barbara@beigeplus.com with your thoughts and comments.