Beige in Chancery Lane, London
If you are making a trip to our new Chancery Lane shop, why not make a day of it and spend some time exploring parts of historical London you may not have seen before? Or treat yourself to a luxury pampering session, new hair cut or just sample some of the delicious things to eat and drink around the area.
Chancery Lane (central line) station is the nearest station. Alight here and you will find yourself in High Holborn looking at the stunning Tudor fascia of Staple Inn. Built in 1585 and amazingly unaffected by the Great Fire of London in 1666, this fascinating building was originally built as a wool staple where wool was weighed and taxed. Although sadly damaged in World War Two it has since been carefully restored. Staple Inn was once part of Grays Inn and is now the only remaining Inn of Chancery. It is in the most part used as the London home of the Institute of Actuaries. Take the passageway at the side of the building called Staple Inn Buildings, this will give you a look at the beautifully kept gardens at the rear.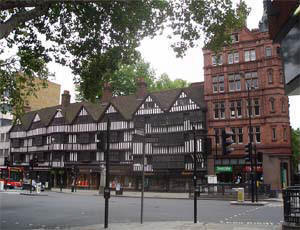 Follow this pedestrian passage and turn right into Southampton Buildings. Ahead you will see the entrance to the London Silver Vaults. An Aladdin's cave of fine silver shops. Opened as a depository for the wealthy to safely store their valuables it has since become a magnet for silver collectors from all over the world: www.thesilvervaults.com.
Another twenty metres will take you to Chancery Lane, turn left and you will find us at the corner of Chancery Lane and Chichester Rents.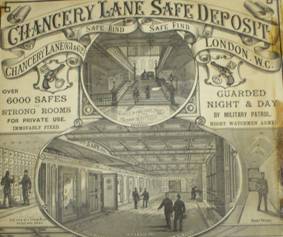 A welcoming coffee or maybe something stronger will be waiting for you whilst you browse through our collection of beautifully selected plus size fashion (size 14 to 24) complimented by our stunning accessories. Here you will find Marina Rinaldi, Persona, Elena Miro, Anna Scholz, NYDJ Jeans and many, many more. Our branches in Temple Fortune (NW11) and Marylebone(W1) offer sizes 16 to 30.
More Local shopping can be done at Ede & Ravenscroft, Roderick Charles, Church's Shoes, Thomas Pink, T M Lewin and Links of London.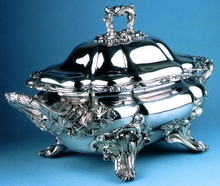 With your glossy pink "Beige" carrier bag over your shoulder, drink in a little more of the local culture: At the end of Chichester Rents you'll find MW Nail Bar, voted in Time Out as London's best new nail bar and decked out with original Bowing 737 interior, bringing an alternative experience to the usual manicure.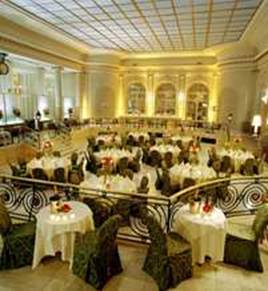 Continue further on and you will come to an almost secret passage – Star Yard, which leads you into New Square part of Lincolns Inn, spend a tranquil moment taking in the beauty of the buildings surrounding this square.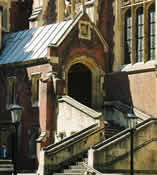 Harry Potter enthusiasts will also be pleased to know that Lincolns Inn is also the home of Sirus Black at 12 Grimauld Place.Then pass through the gated portal to Lincolns Inn Fields. This is the largest public square in London said to be the inspiration for Central Park in New York. Take your time to enjoy the greenness of this picturesque spot and even partake in a game of tennis or netball on the courts in the centre the field. Perhaps spend some time strolling around the magnificent Sir John Soanes museum which is on the north side of the field, across from Cancer Research UK's Research Institute and the Royal College of Surgeons on the South Side. The square is also home to buildings for the London School of Economics and Political Science as well as the Centre for Commercial Law Studies.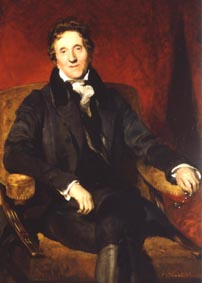 Take a different route and you could cross Chancery Lane, following the cobbled Dickensian side streets, you will find yourself at Number 17 Gough Square… the home of Dr. Johnson (open week days until 5.30pm) It is well worth a visit.
Just 50 meters away Fleet Street beckons. Once the home of the British Press where London's first newspaper "The Daily Courant" was published in 1702 from the premises above a public house called The White Hart Inn.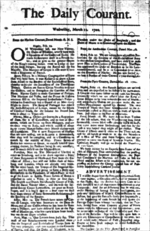 You may even catch a glimpse of the ghost of Sweeney Todd the demon barber of Fleet Street…although police records show no reference to this possibly fictitious Victorian serial killer. However, if you have no such luck, you can always book yourself a ticket to watch the West End version of the tale at the Adelphi Theatre on The Strand.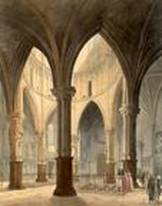 It's hard not to miss the imposing Victorian gothic architecture of The Royal Courts of Justice. Officially opened by Queen Victoria in 1882 explore this magnificent building on your own or pre-book a guided tour (by email at: rcjtours@talktalk.net). After your visit you can pop across the road for a refreshing cup of Earl Grey at the Twinings tea shop, which has been serving tea and coffee since 1706.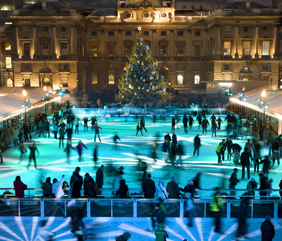 If your boots are still made for walking, it would be a shame to leave without a visit to The Temple, Temple Church and The Knights Templar Church.
And if it's between November and February…While we are mentioning boots you can put on your skates and glide across the ice in the magical setting of Somerset House. However if you are not feeling so brave, just sit by the giant Christmas tree with a hot chocolate and watch the fun or pay a visit to The Courtauld Gallery; one of the finest small museums in the world. If you're lucky enough to be in London during Fashion Week (Feb and Sept) there are a host of celebrities, designers and fashion icons passing through Somerset House, making The Strand a hub of excitement.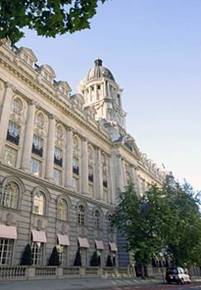 You could then choose to continue down the strand towards Trafalgar Square, where you cannot fail to miss the imposing façade of the Lyceum Theatre on the north side of the road. The third turning on the right after the theatre is Southampton Street, which will lead you into the heart of Covent Garden, the Piazza; where you can enjoy a host of amazing street performances.
For a warmer option indulge yourself with a spa treatment at The Chancery Court Hotel in High Holborn and follow your pampering session with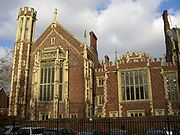 an English cream tea in the ageless setting of The Palm Court at the Waldorf Hilton. Finish off your new look with a haircut at either Brooks and Brooks www.brooksandbrooks.co.uk or The Aveda Institute on High Holborn, both are great places to "head" for Aveda.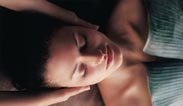 Walk a few metres down and enjoy a delicious pre-theatre meal at One Aldwych before being entertained by one of the fabulous performances on at the two theatres just next door- The Aldwych or The Novello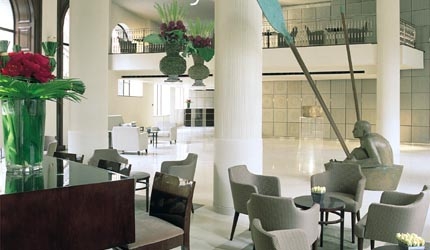 Shopped out, pampered and preened it must be cocktail time! Dining options include The Terrace (inside Lincolns Inn Fields), The Gaucho Grill, Chez Gerard, The Chancery www.thechancery.co.uk or perhaps something completely different Vanilla and Black for gourmet vegetarians.
For something sweeter, try Konditor & Cook for some "Wacky Cakes & Kooky Cookies" or Primrose Bakery on Tavistock Street.
300,000 people visit The City everyday we do hope you will be one of them!
See you soon.
Shop online the home of plus size women's clothing, Beige Plus.