The famous Vicar of Dibley actress and comedienne, Dawn French, recently appeared on This Morning.
She was on the show to promote her new TV show Little Big Shots and her new book which is released in autumn this year, but her fans couldn't help but notice her youthful appearance and style.
BeigePlus is proud to say Dawn's own stylist chose clothing from BeigePlus for her TV appearance, and the story was picked up across national newspapers as people took to Twitter to comment on her style and good looks. During her interview with Phillip Schofield and Holly Willoughby, Dawn made a comment about being almost 60 and viewers couldn't believe it!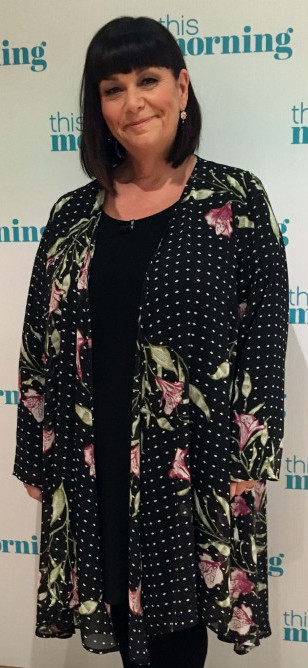 BeigePlus Clothing for Dawn French
Dawn is a regular customer at BeigePlus and often visits and buys items from our designer clothing collections for her personal wardrobe. For special occasions and TV appearances, Dawn's outfits are often chosen by a personal stylist.
For this occasion, Rachel Fanconi, a top freelance stylist, visited BeigePlus and chose some pieces for Dawn. Rachel works by visiting several stores and boutiques to choose appropriate clothing for her clients. During a fitting (a trying on session!), her clients decide which clothes they'd like to keep and Rachel helps put their outfits together for special events.
When Rachel came to BeigePlus, she was looking for pieces that would complement Dawn's figure. She shortlisted an eclectic mix of amazing outfits and we were pleased to see her wearing the sophisticated Yoek Floral Chiffon Jacket two-piece. The look was completed with a pair of soft pink velvet boots which matched the chiffon jacket perfectly.
Having recently lost an amazing 7 and a half stone, Dawn looked incredible. The team at BeigePlus agree with viewers and fans that Dawn doesn't look her age and were flattered to see her wearing clothes from the store. We hope that she felt amazing whilst sitting on the famous sofa!
After the interview, Dawn stepped out in a new outfit that included the sophisticated Marina Rinaldi Long Suede Collarless Navy Jacket from BeigePlus. The jacket is a versatile piece and can be worn for everyday wear for a sporty, edgy look paired with jeans and white t-shirt. It can also be worn with a chic dress, a rope of pearls and court heels for an elegant evening outfit or client meeting!
Visit BeigePlus in London
Try a personal styling session for yourself at BeigePlus. Visit one of our three London stores and our staff will ensure that you have an enjoyable shopping experience. The team will be on hand should you need any assistance with sourcing outfits for a special event or simply to give some style advice for your shape!
You can also contact us online for more information or if you can't quite find what you're looking for or talk to us direct on 020 8455 0005.
BeigePlus are flattered that Rachel and Dawn chose clothes from our clothing collections for her TV appearance and look forward to working with her and Rachel for her next special event!