This is a really personal view of what it's like to buy for Beige. As you will learn our trip is a rollercoaster of highs and lows.
Well it's here – 'the buying season'. We are buying for AW14 and I don't believe I've recovered yet from the last round of buying! This is going to be a tough trip. If you think that sounds a bit over the top then have a read and get a real insight of what it's like to be a buyer for an independent fashion business.
Wednesday – 4.30 am
I climb into the taxi that will take me and Barbara to Dusseldorf. Well, the airport actually, but you know what I mean don't you. The flight is at 7am from Stansted and I dread it. How have I managed to have a job that has so many trips abroad? I hate aeroplanes and I particularly hate the one that will take me to Dusseldorf because it's a skinny little thing with propellers so I can't for a nano-second pretend that I'm just on a coach and all will be fine. Please don't be bumpy. Yes, that's it, I'm a coward and thank goodness for Barbara who keeps me talking to keep my mind off it. Oh and let's not discuss here the fact that the seats are really tight for the both of us. We fly with Air Berlin and apart from the silly little plane they do a good job of being most pleasant. Free drinks and snacks during the flight and cute red heart chocolates as you leave the plane – I didn't make a fuss during the flight so I'm sure you'll agree that I really deserve mine 😉
7am touch down in Dusseldorf
We get through passport control, grab our cases and dash to the taxi rank. Our mission is to find attractive accessories and some extra cute bits for the shops for the current spring season… yes, it's confusing for us too! We go to Neuss, a town outside Dusseldorf, to one of the large Fashion Houses to find my favourite showroom Kiwi. We have been successfully buying from this company for years but when we get there we are told that they are no longer selling anything in larger sizes. They have relocated to another showroom and have decided to focus on a younger market. I was told loud and clear that plus size clothing wasn't working for them anymore. Kiwi purchases most of their stock from the fashion stock houses in Paris. Apparently their suppliers are just not producing garments beyond size 18 so although we spotted lovely stuff it was all too small. This is the first blow of the trip.
We cheer up when we scoop up some lovely scarves and stoles from David and Alex and then we are in heaven choosing handbags in another of my favourite show rooms.
Exhausted, we force ourselves to continue walking around. We have to be vigilant because you never know what you may find. I'm always looking for that something that is just a must have item.
Dear reader, these Fashion Houses are massive buildings…it's like walking around a shopping mall but trade instead of retail. I can just see some of you thinking, 'How wonderful!' and I remember one member of my family liking it to just being a lovely shopping trip. I was inclined to reach out and deck this particular person at that point… of course I didn't, oh well one must just smile mustn't one.
We walked miles on our first day, leaving Neuss around 8 pm. Well, we did find some watches that we had fun choosing. We arrive at Hotel Nikko and there's a huge queue to book in so we go to eat first. Whilst the hotel is rather nice their Bistro restaurant is not. The bistro is hugely expensive and not even good food. Still, at this time of night we couldn't be too fussy. We promise ourselves to choose somewhere better the following day. Finally we book in and get to our rooms; I'm distressed to see that my ankles are really swollen. It's not great being overweight is it? I unpack and sleep. The alarm is set for 7am we've arranged to meet at breakfast for 7.30am.
Thursday
The Hotel Nikko bedrooms are great with Molten Brown products in the bathroom. The Hotel serves a wonderful breakfast selection, I try to be careful in the knowledge that I won't manage during the day to keep off the nosh. So fresh fruit, then a couple of rashers of bacon makes me happy.
Barbara is probably overwhelmed by all the delicious croissants, crepes and other stuff. However I believe that in Italy (Barbara is Italian) this would be typical for breakfast.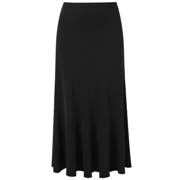 First outfit crisis of the trip. I really want to look professional, glamorous, gorgeous, successful and impressive but I'm desperately tired and need to be comfortable as well. Oh and what shoes to wear. There will be loads of walking and standing around. As you all I'm sure can empathise with this, comfortable shoes are not sexy glamorous shoes – I know that this is the make it or break it moment for me.
Conclusion – Flat black leather boots, calf length black skirt from our own label and a Marina Rinaldi jacket – I looked ok! Barbara, who is really good at doing makeup, did mine.
We arrive at the Rof Amo showroom – well, what a relief! The collection is fabulous. This company specialises in outerwear – in particular puffa jackets – including blazers, coats and cloth jackets.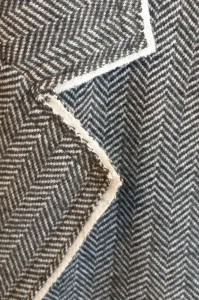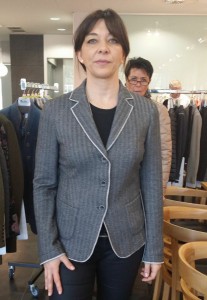 This was one of the best collections that we had seen from them in ages. We will be blowing our budget on this order!
One of the trends for next winter is herringbone and we find a fabulous herringbone fabric made up into long and short jackets using clean simple classic lines and a knitted novelty fabric also with a herringbone design. It looks like cloth but feels knitted and it's stretchy which will be fabulously comfortable.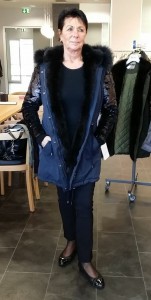 Glossy short puffa jackets in jewel colours that roll up into their own bags are great for travelling; navy parka sequinned sleeves, racoon fur trim on the hood and real down – simply divine and very on trend! We will certainly be selling those next winter. We have chosen the navy and black mix; it's very sophisticated and as the buyer of Madelaine (a big catalogue company) and I were chatting we voiced our concerns about navy as a winter colour. However navy will be the new black next winter – it's being shown by most of the top brands – and she agreed with me.
Next stop we pop into the glamorous Basler showroom. We fall in love with the suiting section and smile knowingly at the royal blue program. Then a later delivery program in amethysts also catches our eye. This is a fleeting visit to see what the trends are; we will write the order in Basler's beautiful showroom in London.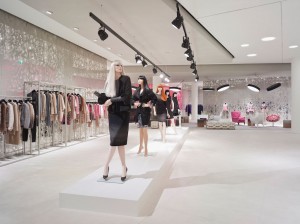 Late afternoon, we go back to our hotel and begin the work of actually deciding which were the best jackets and coats, and the quantities that we will need for each branch. We are now buying in earnest for our online shop Beigeplus-shop.com. Around 9.30 pm we realise that we are hungry, cold and beyond tired, so we pop down to the hotel's bistro in the lobby and have another not very good meal. Oh well! I think our heads hit the pillows around 11.30ish. Check out the latest pieces to arrive in the Basler designer clothing range.
Friday
Breakfast at 7.30 again and I still manage to do the fruit thing. Today I go for a gold twinset by Marina Rinaldi – it sounds dressy but it's quite sporty. I've got plain black trousers and black patent lace up shoes by Clarks. Sooo comfortable! Shop the Marina Rinaldi collection.
Again Barbara does a great job with my make up …I have to explain I wear glasses and to tell the truth without them, even using a magnifying mirror, I do not do a great job on my eyes.
First stop Fashion House 2 and the Yoek show room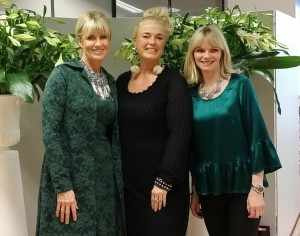 We had a sneak preview of this collection a couple of weeks ago in Berlin and I thought that I had sorted in my mind the best pieces…however now I'm revisiting styles that I thought I didn't like with a new point of view. As we walk in Joanna looks amazing in a lace coat and dress in green. I was so sure that I didn't get it earlier and now I know that it's a wonderful ensemble for special occasions. It just goes to show that you have to see things on. I think that's the battle cry in our shops:"Just try it on you don't have to buy it…"
We loved the herringbone print (you see it's a trend) story and there was also a mulberry coloured collection that we will be buying. Yoek Black Label had some wonderful pieces – who can resist their leather and jersey story? I certainly can't.
Not only are the Yoek girls really talented, they are lovely to work with and it was a pleasure spending the morning with them. Oh yes and they are foodies too; the nosh that they serve their clients is delicious. It's the best collection for food in Dusseldorf – it's not the point of our trip I know but every little helps! Fall in love with the Yoek Black Label clothing range.
At this point I should mention how hard Barbara works. Every piece that we like has to be typed into our computer (that we carry with us everywhere) style numbers, descriptions and what sizes, what quantities and so on. Then we photograph every single piece that we are interested in. Well not we, actually Barbara does it. By the end of the buying season we will have taken around 250 to 300 photographs. That's a massive job.
Staying in Fashion House 2 – next stop Murek…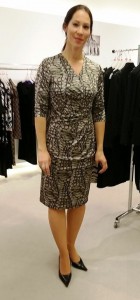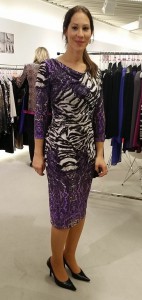 We are running late for our next appointment but as we arrive at the Murek showroom no one notices that we are late. They are so busy that in fact I think they are grateful. We found this collection a couple of years ago and we have built up a good relationship with owner designer Nicola.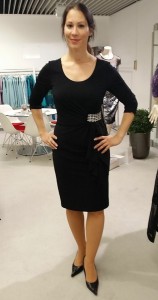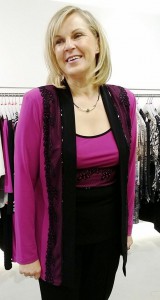 What I love about this collection is that it's primarily for a non plus customer but it works really well in larger sizes and Nicola is now regularly producing goods up to size 28. I can claim some credit for this. This has given her a wider target market and I'm extremely pleased for her. We always do well with Murek dresses and we also like the print embellished twinsets. They are perfect for special occasions and are ideal to wear on a cruise in the evening.
It's getting late and there are only a few people left in the Murek showroom. The models and staff have worked very hard and Nicola brings out the champagne. How lovely!
Then we all go out for dinner to a great family run Italian restaurant that Nicola knows well. The meal is delicious and Barbara can practise her Italian.
Thank you to Nicola for treating us. We all go to sleep that evening happy. We had planned to do some work that night but hey! Going out for dinner with friends takes priority.
Saturday
Treated myself to a fried egg for breakfast and couldn't resist the bread!
Had to be comfortable today so I've given up on smart – a white shirt layered under a long boyfriend style charcoal grey v neck cardigan (several seasons old I might add) and of course black trousers and flat lace-ups. I'm completely covered – not a blob or bulge in sight! …Yes ok the cardigan did have a little bit of lurex yarn in it to glam it up.
Our first appointment is with Open End, the plus collection for Non Stop. This is one of my very personal favourite collections. It's on trend fashion, I-want-it-now stuff, and it's young (what ever that means nowadays) but Barbara, who is 39, likes it and I'm 56 and pleased to wear it too.
Oh and what I really like about this collections is that the slim girls in the Beige team wear it themselves. Let me assure you that this is a huge accolade for a plus collection. We saw a sleeveless tunic dress in black leather – yes that's right, black soft leather! – and cute knitwear with stars (watch out for stars, they are everywhere!) Good long silk print skirts, lovely knits and black leather jackets ….hmmm I'm thinking about it.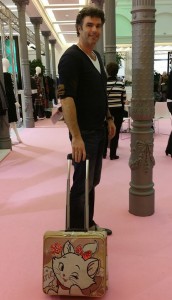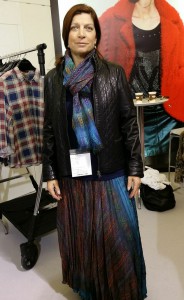 Let me introduce you to Eric and his right hand woman Betty. They are based in Holland but they are the agents for this collection, Wille and Elena Grunert as well. Huge thank you goes to Betty who drove over to Dusseldorf for the day to help us; she really knows our taste and more importantly she knows her collections really well. She has tried on every sample to see what works and what doesn't. I put my hand on an interesting looking piece and she tells me, 'No don't touch it; it's not nice on.' Thank you so much for spending the day with us..
Browse Open End designer clothing online.
We leave Open End with Betty and Eric in tow and arrive at the Wille show room
But first I had to change shoes! Oh that's much better 🙂
Wille is a sophisticated collection for women. It's edgy sporty (no, not stuff for the gym) and glamorous. No frills or florals here. Just clean lines and geometric prints.
We have our eye on a puffa jacket that combines fabrics, which is another trend. This piece shows off the trend beautifully. Then there's another jacket with a fox fur collar that's pretty irresistible. The Wille collection has great shirts and fabulous knitwear too. This collection goes up a size 28 and will look equally good on a size 16.
We make our selection and go to Betty who models all the pieces we pick out so we can be sure of how it will look on.
Lunch arrives courtesy of Wille.
Now these people really know how to cut for a fuller figure and it's one of the few collections that we will buy up to a size 30. This is much dressier than Wille and more feminine too. There are some lovely stand alone jackets, great black suiting and we see jewel colours and a lovely silk stretch blouse for the evening. Then there is also a really cute and fun fur coat.
Now it's getting late but we still have time to go to the Baronia showroom.
Here there are luscious puffa coats and jackets and really sumptuous cloth coats that we can order in sizes to suit us. We take photographs and make notes. We still have to view the Marina Rinaldi Phase 2 collection, so we don't want to duplicate.
We are on our way to see another collection when we pass a showroom that's very seductive.
Hello Stizzoli!
This is a luxurious Italian knitwear company that has been on our radar for a couple of seasons. Our friends in Canada Toni plus have been selling this collection well for a couple of years so this time we stop and investigate.
You know, however tired you may be, when you see something wonderful the adrenalin rush takes all the pain away. We are seduced!
Next we seek out Musetti and Moretti.
We discovered these 2 Italian companies last season and we look forward to seeing how they are working for SS14.
Whilst they are two completely separate companies, they are friends and find it useful to exhibit together. (Mostly because one of them speaks better English than the other). One company specialises in knitwear and the other is a print specialist company. We are interested in pieces from both.
We leave around 9pm – it has been an extremely long day. Determined not to eat in the Hotel again, we find a tapas bar that's within walking distance and had a lovely meal.
Again we head to bed exhausted.
Sunday
Fashion House One
Our first appointment is to see Tuzzi Nero. We were confronted with sad news. We learn that the collection is no longer. How sad; the designers were brave and gave us really attractive clothes for curvy girls up to size 28. We did really well with it this winter. Well this is a real blow and sadly typical of what can happen. We will need to discuss where to move the budget to. It does however give us a bit more time to mooch around.
We find a cash and carry showroom and grab some bags that we think will look good. Now we have a really heavy bag of stock to carry around with us. There is no way we can get it on the plane. What was I thinking of?!
Brainwave – We pop back to the Elena Grunert room and persuade Mr Schilling to bring it to the UK for us since he is driving over with the Grunert and Wille collection next week.
A quick check over the Verpass collection which we will see again in London and there it is…one of those must have pieces. A soft leather parka with a luxe fox fur trimmed hood. Take a look at the recently updated Verpass clothing selection.
We are glad to see good friends aka the Verpass trouser – one of our best sellers. Colours are Black, Grey, Dark Brown and Olive. Please note that khakis and olives will be important to you next winter!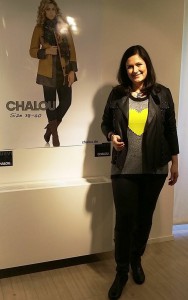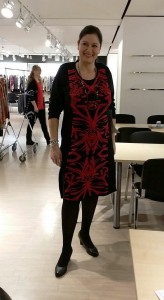 The next showroom housed Chalou, Apricot and Sempre. We made friends with their model Monika who drives ambulances for a living when she isn't modelling. That's really cool.
This is another source of really attractive clothes for plus sizes. Again we will buy up to a size 30 for some styles and definitely up to a size 28 for all. There are some excellent knit dresses, great jersey narrow leg trousers in good colours and more stars. My friend Brigitte looked after us – she's such a lovely lady! – and she has a good eye for the winning pieces in the collection.
Godske showroom
There are several collections that we are interested in here. We will make our final decisions in London; however the Kirsten Krog collection was one of the best that we had seen in a very long time.
Steilmann
Again just a quick look because we can view again in London. We saw a soft capsule of pinks and browns that were interesting.
Dinner with Toni and Becky from Toni Plus
A few years ago we were introduced to Toni Tiraborelli, President of Toni Plus, and her right hand woman Becky. Toni has several stores in Canada specialising in the luxury end of plus size clothes. Toni Plus is a mirror copy of Beigeplus in the UK. Toni and Becky share our passion and their mission is the same as ours.
I've posted part of their mission statement below – if you are ever in Canada please go and see them:
Our Passion is Fashion

We pledge to go beyond merely "Selling Clothing" and help our customers find the beauty in themselves in a way that is unique and appropriate for that individual.

Our aim is to continue to attract the most dynamic designers, and be the first to introduce their product to the Canadian plus-size market.

Our mission is to be the pre-emptive fashion destination in North America for plus-size women.
We look forward each buying trip to meet up with Toni and Becky over dinner. We have such fun. Toni and Becky are very good company and we have become firm friends. There is a tradition that no matter where we book, things seem to go wrong. Although perhaps that's an exaggeration since I think the meal during the summer trip went quite smoothly.
Past issues have been drunken waitresses, restaurants' that serve gin and tonic when Toni had been looking forward all day to a Martini, and in another place we have been told the kitchen has no eggs when we try to order Zabaglione and so on. The funniest thing was when a huge insect landed on the back of Becky's head – she has beautiful long blonde hair. It kind of looked like a locust and perhaps it was attracted to her blonde colouring. Another customer in the restaurant drew it to our attention and poor Becky had to keep very still while Jon (my other half) removed it for her.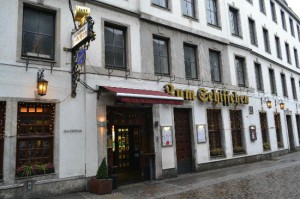 This year I had recommended the typically German restaurant Zum Schiffchen and we were looking forward to going there. Then when I tried to book a table I find that it's closed on Sundays …panic!
Then we are recommended an Italian restaurant which turns out to be rather good. Toni's parents are Italian and she loves to cook, while Barbara is also Italian so it's quite a responsibility recommending a restaurant. Dinner party stories are swapped and Barbara reminisces about a delicious typical peasant style meal that reminds her of childhood. Read Barbara's blog to get the recipe.
Of course we also chat about business. Toni gives us advice about Stizzoli and we recommend Verpass. We're all really pleased this time with the Elena Grunert collection.
It's wonderful to have friends that are in the same business and that we can support each other without stepping on each others toes. These are my twice a year business therapy dinners.
Monday
The Gallery
We dedicated our last day to The Gallery which is a twice a year exhibition of mostly German 'designer' collections and includes a great selection of accessories. Our new brand Sulu which we are launching this spring exhibits at The Gallery.
We met up with Toni and she and Becky showed us their favourite pieces. Since they have been selling the collection for several seasons we appreciated their advice. There was a great black dress that I loved.
We make ourselves walk around the whole of the exhibition, yes every floor because you never know – that special something could be just another stand away! It paid off because we did see some very pretty knits.
Around 3pm we grab our stuff (2 large suitcases and 2 small ones) and take our last taxi ride of the trip to the airport. We have some time before takeoff so out comes the computer with the intention to catch up on work. After 10 minutes or so it becomes quite clear that we are far too tired. I eat – I think to dispel my fear of getting on that plane again! I have to say that the restaurant at Berlin airport is rather good and the apple strudel was delicious.
Bumpy flight – ugh! Then finally a taxi home. It's not so bad really – another buying trip over!
We are off to Milan on the 24th so more news then…