BeigePlus has been established for over a decade and how we've seen the fashion industry change! Much as we love the ever changing trends and the way designers incorporate them into their gorgeous clothing, what has irked us the most is that this lovely fashion is much harder to find for us curvier ladies.
Now, as plus size fashion progresses and it becomes more prominent in the higher end of fashion, we couldn't be happier to make designer plus size clothing available for women across the UK. We love seeing more and more designers cater for 'plus size' women – and salute those brave designers like Elena Miro and Marina Rinaldi that have been producing gorgeous garments for plus size women for decades. Without them, the plus size fashion industry might not be where it is today – and the inspiration for Beige certainly wouldn't be.
Inspired by Plus Size Fashion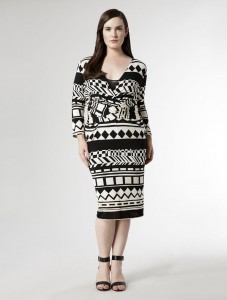 We couldn't be prouder to offer some of the finest plus size designers' collections in our BeigePlus London stores – because we know how it feels to search endlessly for that perfect garment to find it isn't stocked in your size. We're here for women that are looking for a fashion fix that will flatter their figure – and as we add more designers to our plus size clothing collection we can cater for women of all ages.
Whatever your style, whatever your shape – you'll find a garment (or three!) you'll love at BeigePlus. Plus size clothing doesn't make it onto our shelves if we don't have the firm belief that it will make you look and feel beautiful, which is why we put so much thought into each and every line we purchase.
Put a Spring in Your Step!
At the moment we're loving the pastels and vibrant colours that are dominating designer plus size clothing collections. Florals and patterns are seriously in at the moment – it's all about flower power baby! It's the season to make a statement – be it a floral jacket or brightly coloured trousers – and here at Beige we have all the plus size designer clothes you need to transition your wardrobe from the monochrome of winter to the colours of summer! Why not browse our range of of plus size holiday clothes?
Shop at Beige for Plus Size Clothing in London
Browse online or in one of our stores in the West End, North London or City of London and see our stunning range of designer plus sized clothing. Our friendly staff will always greet you with a warm and friendly welcome and they will be more than happy to help you find that perfect fashion fix!
We understand that it can be scary ordering online, especially if you're not sure what size you are! For more help, take a look at our basler size guide UK.
We'd love to hear your thoughts on our stores and any great purchases you find, please email Barbara@beigeplus.com with any comments!