Ha! You thought this was going to be about posh frocks for weddings didn't you? Well no, my theory is that every day is special, so let's see if we can make it so.
Larger women need to learn to treat themselves with respect, by the way that includes me. We drag on the same old thing most days, hiding in dark and baggy tops, pouring ourselves into stretchy leggings that we have stretched to the max. We occasionally make an effort for a really special occasion, like a wedding, right? This is a bit of a circular problem – I know that you are turning down special things to do because you have nothing to wear and you don't feel great in what you do have.
Whoa, let's stop this right now. Let's look fabulous the way we are. Every day is a special occasion.
I think it's all about planning and having some really special pieces that will work hard for you.
With our help you can look great every single day.
An unexpected business trip or an interview for your dream job? Don't panic.
Your best friend is organising a meal to celebrate her birthday and you know that you must join in. Crying off with a migraine isn't an option.
Or when your neighbor invites you to her grandchild's christening…yes, really, these unexpected things do happen all the time. They happen to everyone! However, I do think that for a plus size woman it's not so easy to just pick up something cute in your lunch break or go late night shopping with a friend to pick up some extra pieces for the wardrobe. We do need to plan and shop in advance.
This means that when it's the end-of-year school play and you really need to look your best so as not to let the kids down, plan now, this year it's not going to catch you out.
Come on, let's get it together. Start planning now. So when those last minute invites arrive, you have something to wear. You can go and you will look fabulous.
I have put together some ideas from our New Arrivals, but don't stop there, anything is possible. Changes of shoes and accessories can really help your clothes multitask for you.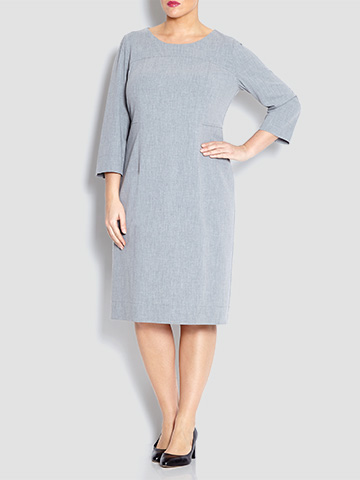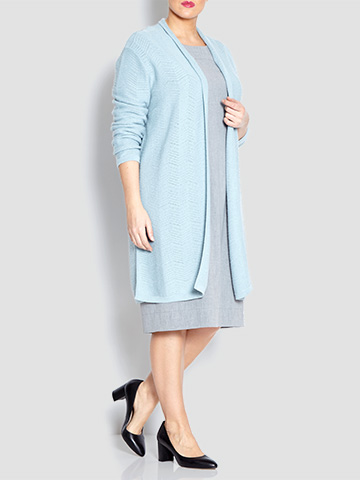 Marina Rinaldi grey round neck panelled dress
What I love about this dress is its simplicity. It's a damn good cut, completely thought through to cover you and yet give you shape… and it's not black! Actually, the colour is extremely flattering, throwing light up to your face and easy to glam up or play down. Because it's plain, you could go mad with lots of necklaces and an interesting wrist cuff. It would look luscious with pearls.
For autumn, when it's still warm, nude or soft grey shoes are great – then later try it with black patent. It's obviously a great dress for work, but I think that with a smart hat, it can take you to church. Wear it with a blazer or add some colour by throwing this teal coat over (see below). Walk into any smart reception looking fabulous.
In fact Beige Plus have compiled an entire collection dedicated to special occasion wear. Check out plus size special occasion range.
MARINA RINALDI PLUS SIZE FASHION
Marina Rinaldi are experts when it comes to creating beautiful clothes for the larger woman. This dress is parent's night, important client meeting, christening, dinner, theatre… whatever you need it to be. It needs great underwear, heels, some fun jewels and silk scarves to make it work hard for you.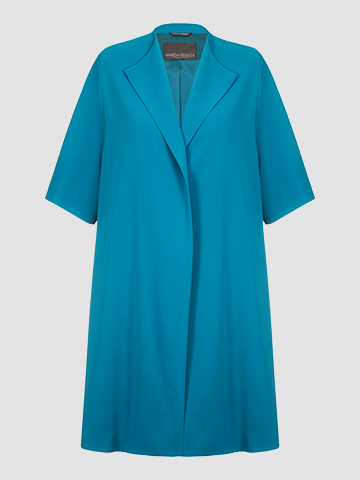 Marina Rinaldi teal formal coat
This lovely teal coat is ladylike and elegant over the grey dress or fun over jeans.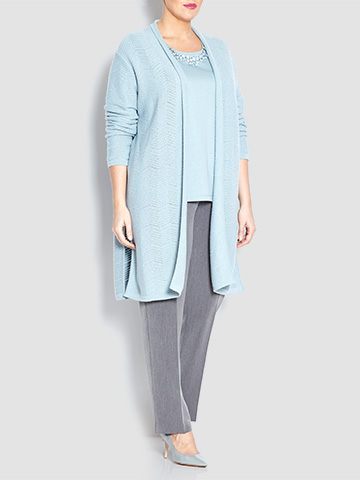 Marina Rinaldi blue cardigan
Get some special tops into your wardrobe, believe me, you never have enough!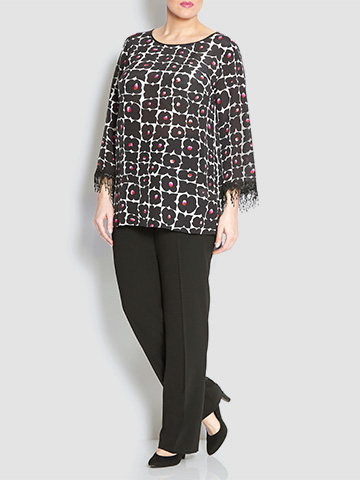 Marina Rinaldi silk abstract floral fringe tunic
Smart dinners or girls' night out, this Marina Rinaldi tunic is pretty and versatile… it just depends on what your wear it with.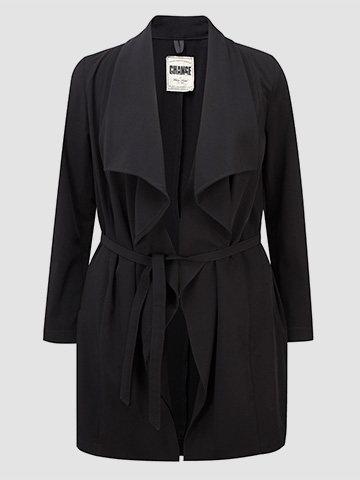 ROF AMO long black jacket
Another thing you are going to need is a fabulous cover up, like this black long jacket, flattering with its waterfall front.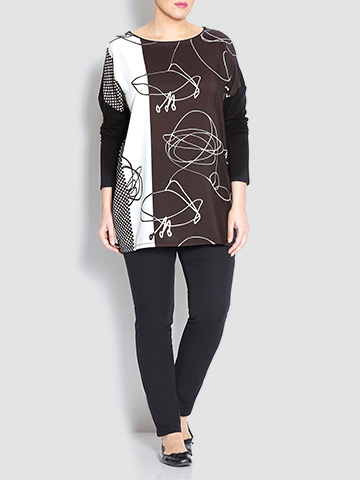 Marina Rinaldi monochrome print jersey back tunic
A fun tunic from Marina Rinaldi…the colour blocking is flattering (and the large pattern suits us larger ladies).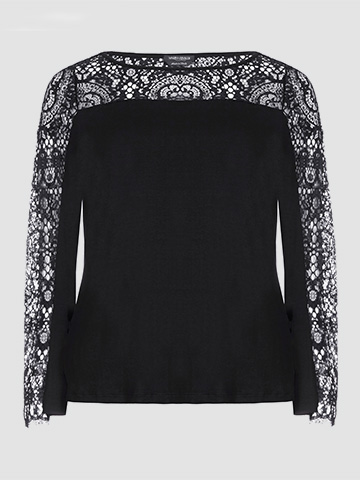 Marina Rinaldi black top with lace yoke and sleeve details
Marina Rinaldi specialise in plus size clothing in high quality fabrics and this lace yoke top is one of my personal favourites: from jeans to jersey trousers, this can be perfect for almost every evening occasion!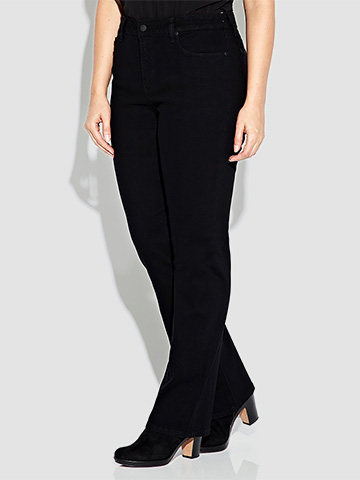 NYDJ
Please make sure that you have several pairs of black trousers to mix in with the tops. Yes, a well-fitting black jean would be part of this brief. Since our favourite jean NYDJ goes up to size 28, there really isn't any excuse.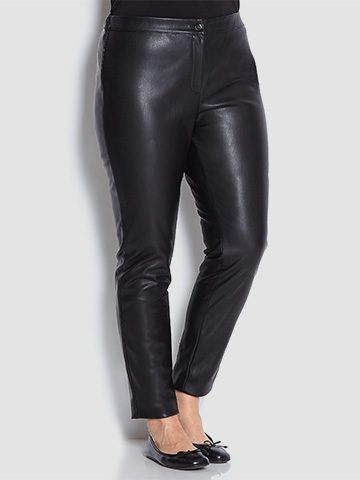 Marina Rinaldi leather look trousers
We were so excited to include Marina Rinaldi's leather-look trousers; the narrow leg is almost like it's a legging but not quite and much more flattering for plus size women. As I write this we have them in stock from size 18 to size 28. Such a useful pant.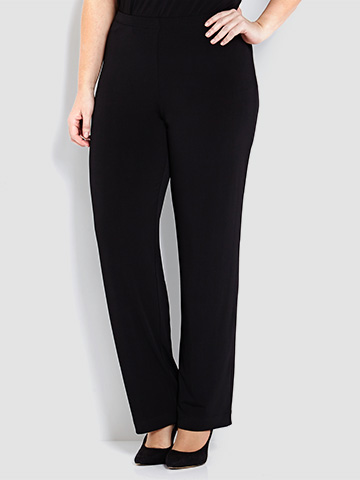 Beige Fluid Jersey trousers
These trousers are brilliant: I've worn them during the day, however they really come into their own as an evening trouser if some heels are worn. Fluid, comfortable, washable and always jet black. They survive being shoved in a suitcase too. Go online and shop plus size trousers.
So to Conclude
Invest in a well-fitting dress that can be dressed up or down, select a mix of tops combined with some decent trousers or jeans and have to hand a couple of great cover-ups.
If you really do have a very special occasion like a wedding, hang on for another blog or better still check out our Special Occasion department for more inspiration and ideas on how to choose the perfect outfit for a special occasion.
Happy shopping
Love, Leanda
P.S. If you can get to our London Stores, why not make an appointment for a makeover? Our staff are always on hand to make your experience one of a kind!
Visit Beige Plus, the home of plus size fashion.