Spring is fast approaching and it's the perfect excuse to update your wardrobe! Whatever your shape or size, you can find a chic glamourous designer outfit for a meal out with friends or alternatively choose a stylish fluid shirt to ensure a comfortable look for the weekend.
We know that shopping for stylish clothes in your size, can difficult, however BeigePlus is here to help. We stock all the latest fashions from designers worldwide, including Marina Rinaldi, Persona, NYDJ (Not Your Daughter's Jeans) and Georgedé. We have also developed our own label, Beige. Our extensive range of plus size clothing, will ensure that you have an enjoyable shopping experience and have some great looks for Spring!
Trendy plus size clothing from designer brands
Beigeplus has a brand-new collection of patterns, colours and trends for SS 17 that will make you look and feel fabulous. From muted florals, to plain shift dresses and bold printed shirts, you can now step out in clothes that really fit well, helping you to feel wonderful.
Below are some examples of lovely dresses for special occasions and important summer events which will brighten up your wardrobe. We have also selected a couple of shirts for those days when you want to cover up and be comfortable but still want to be stylish.
Neutrals
The neutral trend this year is important, blush pinks, nudes and pale greys are taking centre stage. French designer Georgedé has a range of plus size dresses which are great to wear to the office or for formal occasions. This gorgeous nude swirl print features on two pieces from Georgedé, giving you options, so that you can choose a shape that works best for you.
Made from jersey, which is a great fabric for plus sizes because it is stretchy, the fabric moves with you, ensuring that you are comfortable. The jersey featured here is a polyester and spandex mix making a fluid fabric that moves beautifully, working with the bias cut of the dress.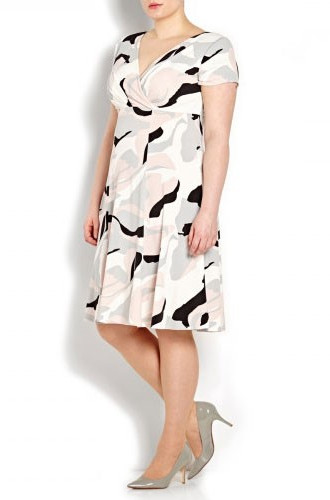 With pastel tones and a wrap design, this dress is pretty with a feminine flared skirt that falls to the knee and a camouflage inspired print. You'll look sophisticated and elegant in this ensemble!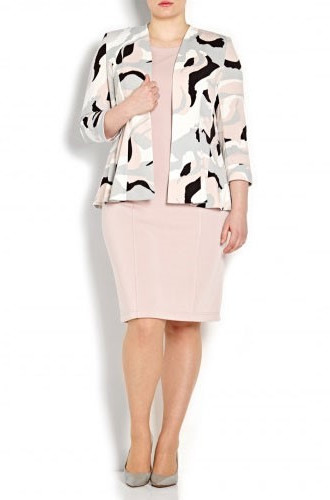 For a chic outfit, choose the jacket and plain tailored dress for a sleek look. Designed to streamline the figure, this sleeveless dress made from a firm stretchy jersey, will sit in all the right places. Combined with a print peplum jacket, it makes a truly classy outfit.
Florals
A common trend throughout all spring and summer seasons, florals make a return every year and are an easy way to add a splash of colour into your clothes collection. One of our favourite Italian designers, Marina Rinaldi, has a stunning range of floral dresses that can be dressed up or down to suit any occasion.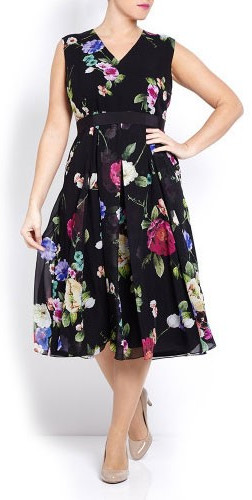 The silk georgette floral dress with optional sleeves has a beautiful, delicate style that suits formal occasions like weddings and summer soirées. With bright, vivid colours and a band to accentuate the waist, this dress will complement your shape and optional sleeves make it a versatile style for extra comfort.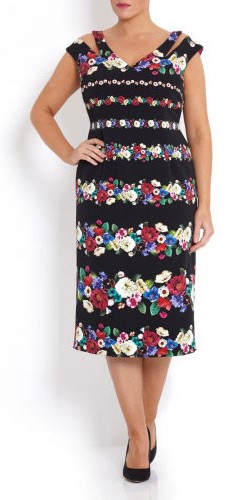 Perfectly tailored for a slimming fit, this stunning design from Marina Rinaldi makes a beautiful outfit for a special event. Whether it's a night out with the girls or a day at the races, you will feel flirty and floral in this edgy cold shoulder dress with a deep V to show off your curves!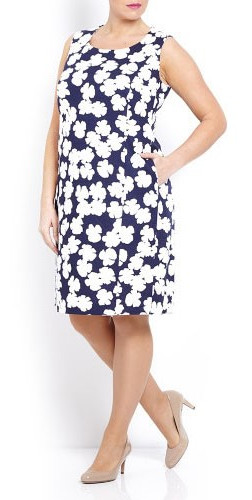 A floral shift dress with one of the season's staple colours, navy, will look great on any shape. This lightweight dress, made from stretch cotton is a must for the holiday suitcase. Complete the look with a pair of heels and optional capped sleeves for extra comfort.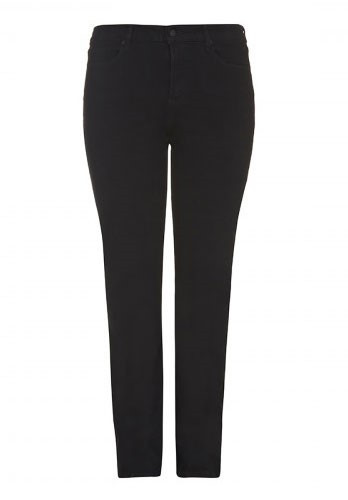 Abstract prints and denim
No matter what your age or size a really great pair of jeans is a wardrobe essential. Denim never really goes out of style. Beigeplus have several labels in stock however we are really proud to be stockists of NYDJ.
This is an amazing jean and we are probably one of the few, perhaps the only stockist, in the UK of their plus size range. We hold stock up to a size 28. They sell out really quickly and we replenish as fast as we can so if your size is missing please keep checking.
NYDJ have (for a long time!) been a favourite at Beigeplus and are by far the most comfortable fit for larger sized ladies. The stretch is fabulous and their clever technology really does ensure that the jean enhances your figure.
Pair these comfortable, stylish NYDJ with an abstract print shirt or t-shirt for a smart casual outfit. These two pieces from Persona combined with a jean create the perfect jean and shirt ensemble. Easy relaxed dressing for the weekend.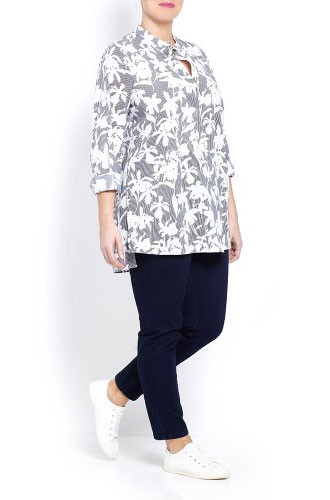 For a more muted look, choose this wonderful monochrome print cotton tunic for an outfit with an element of sophistication. Cool, clean and comfortable, this tunic with a classic collar will flatten your silhouette and let you breathe all day long!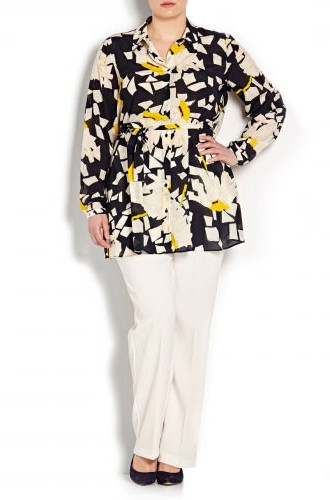 To add striking colour to your wardrobe, the silk abstract print oversized shirt by Persona is the obvious choice. Dress this up or down with tailored trousers and heels or NYDJ and flats for a more casual look.
Visit Beige for the best plus size designer fashion!
If you need help and advice we love helping. We like to find the best pieces from our plus size fashion collections that will flatter your shape and suit your lifestyle. It is particularly important that for a special occasion you look your best but also feel comfortable so why not try a personal shopping experience at one of our three stores.
We believe that great fit is essential, knowing our products ensures that we can help you choose clothes that will fit you well. Make it your aim to be stylish for SS 17.
Whether it's a low-key pattern or an abstract print, our friendly staff can give you a personal shopping experience and help you find that amazing piece for your special occasion or leisurely weekend.
Visit one of our three London stores where our experienced and knowledgeable team of stylists will be available to help you. For any other enquiries or help finding a certain item, please get in touch with us on 020 8455 0005.
Happy shopping!